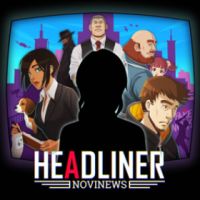 Headliner: NoviNews
An adventure game in which we decide which articles will be published in the next editions of NoviNews, influencing the fate of the character and his loved ones, as well as shaping the whole society. Headliner: NoviNews is the work of the independent studio Unbound Creations.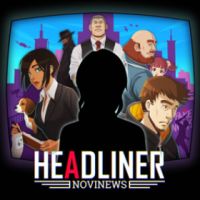 Headliner: NoviNews is an adventure game in which the player takes on the role of a journalist and his decisions not only influence the fate of his character, but also shape society as a whole. The production was developed by the independent studio Unbound Creations, which has in its portfolio such titles as Karasaki: What Goes Up... and Postmort: One Must Die.
Plot
The story told in Headliner: NoviNews focuses on the character of the employee (we can decide whether we want to impersonate a woman or a man) of the newspaper NoviNews. On a daily basis, we deal with the acceptance or rejection of articles that will be included in the next edition of the journal. After leaving the editorial office, we can see how our choices affect the society of fictional Novistan, and thus also our friends and loved ones.
The latter are Evie (an immigrant struggling with health problems and growing xenophobia), Justin (a novice comedian struggling with social fear), and Rudy (a single father whose business is overwhelmed by the spectre of bankruptcy). By our decisions, however, we can lead both to an increase in social tensions and to the transformation of the country into a dystopia in which the price of peace is omnipresent surveillance. Of course, our actions do not escape the attention of the boss; they also determine how the story that is told here will end.
Mechanics
Headliner: NoviNews starts with the process of creating a character (we can decide on its sex and appearance). We still have nothing else to do but to start the work, which consists in stamping a green (signifying acceptance) or red (signifying rejection) stamp to the articles we are given. Sitting behind a desk, we observe the action from the first person perspective (FPP).
Things are different when you leave the editorial office. Then we see our character from the side, and while walking around the city, we can see the consequences of the choices we make. Depending on which articles we allow for the next issue of NoviNews, people can start riots and "decorate" the walls of buildings with graffiti or, on the contrary, stay calm under the watchful eye of cameras and drones who take care of the order. In addition, we can then meet with the above mentioned relatives and gradually learn about their fate, and at the end of the day - relax at home.
Technical aspects
Headliner: NoviNews has simple but clear graphics in cartoon style.
Similar games:
Age Rating
age requirements: 12+
System requirements
PC / Windows
Recommended: Intel Core i5, 2 GB RAM, graphic card Intel HD or better, 600 MB HDD, Windows 10 64-bit
Minimum: Intel Core i3, 1 GB RAM, graphic card Intel HD or better, 600 MB HDD, Windows 8 64-bit