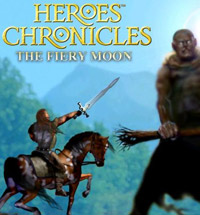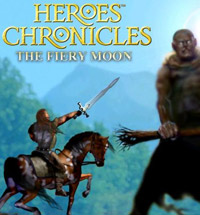 Heroes Chronicles: The Fiery Moon
PC
Heroes Chronicles: The Fiery Moon is the fourth game in the Heroes of Might and Magic spin-off miniseries, based on the mechanics from the fan favorite - the third installment of the main Heroes series. The game's plot takes place shortly after the events of the previous episode.
Heroes Chronicles: The Fiery Moon

Release Date PC

13November2000
developer: New World Computing publisher: 3DO Company

game language: English
Producer of Heroes of Might & Magic series, New World Computing company, after releasing two additions to the third part of the game, decided to change the strategy a bit to create another saga. It is aimed rather at casual players, offering a range of relatively short campaigns with a low level of difficulty. The series uses a truncated engine Heroes III: The Shadow Of Death, devoid of multiplayer options and the ability to play single scripts. Individual parts of Chronicles can be treated as additional campaigns, but released in the form of stand-alone games, which do not require the third part of the saga to work.
The plot of the Heroes Chronicles series is an epic story about the fate of an immortal hero called Tarnum, presented in several separate episodes. Recognized as unworthy of the gates of paradise, our hero seeks redemption for the sins committed in earthly life, fighting evil and counting on the favor of the gods. We are still dealing with a classic turn-based strategy in a fantasy atmosphere, in which our prototype player develops his territory, expanding castles and gathering armies in order to lead them, together with other heroes, to fight with hosts of various enemies.
In this part of the saga, which is a direct continuation of the events known from The World Tree, Tarnum follows north in the footsteps of Vorra - one of the three Ancestors, who turned into the ruthless god of war. Along the way he meets a coveted man who escaped from his army, who informs him that the other two Ancestors were imprisoned on the Flaming Moon. The road to this place leads through an ancient portal called the Sparkling Bridge. Tarnum defeats prisoner Xyron in battle and frees Ancestors, but loses out in battle against Vorra's army and loses one of his trusted commanders, Grumba. It turns out that the only way to defeat his ancestor is to cure him out of madness with juice from the World Tree.
The Fiery Moon, like The World Tree's earlier campaign, was distributed electronically and made available free of charge to all those with three earlier episodes of the saga.
Please let us know if you have any comments or suggestions regarding this description.
Last updated on 01 August 2013
Game mode: single player
Age restrictions Heroes Chronicles: The Fiery Moon: Good for all ages.
Heroes Chronicles: The Fiery Moon System requirements
Recommended:
Pentium 133 MHz
32 MB RAM
Windows 95/98/NT4