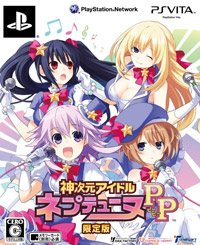 game language: English
game release date for PSV:
20June2013
Hyperdimension Idol Neptunia PP is a combination of strategic manager and adventure, in which we play as the head of the band of pop singers. The game is a side title of the jRPG Hyperdimension Neptune series, which was born in 2010 on PlayStation 3. The title is the first representative of this series to appear on PS Vita. Traditionally, the Japanese Compile Heart studio is responsible for its production.
The story presented in the title uses the world and the characters that appear in the main episodes of Hyperdimension Neptunii. The protagonists are the so-called goddesses, young rulers and guardians of four countries, representing the most important console manufacturers, i.e. Nintendo, Microsoft and Sega. Girls are personifications of specific models of gaming platforms, and their power derives from the faith of their subjects. When it turns out that their popularity is taken away by a female music band called MOB48, they decide to regain people's hearts by founding their own group. Players take on the role of a manager who thinks it's important to take the troupe to the top of the charts.
The gameplay model is a combination of several different genres. The first part of the game is a band management simulator, modelled on the popular in Japan [email protected] series. Players set the dates of performances, interviews and media events in which the heroines take part. They can also organize training sessions, thanks to which they can improve their skills, presented in the form of numerical statistics. In the second part of the game, we observe the performances of individual singers, having an impact on the stage effects and camera settings, we try to get the greatest satisfaction of the concert participants. The third part of the title was realized in the form of visual novel. These adventure fragments, on which we have minimal influence, focus on the interaction between the characters and their activities when they are slow and do not prepare for their next performances.
The three-dimensional part of the game, including stage concerts, does not impress with its performance. The creators used animation and models from the main series. Players, however, have the ability to influence the appearance of the heroines and the outfits they put on. In the adventure part, the game is accompanied by animated two-dimensional portraits known to fans from PlayStation 3. The music is a compilation of original Japanese pop songs, performed by actresses who lend voice to characters.
Please let us know if you have any comments or suggestions regarding this description.
PEGI Rating