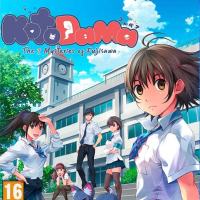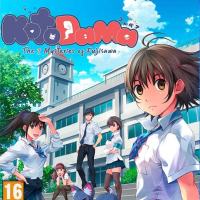 Kotodama: The 7 Mysteries of Fujisawa
The title combines a classic visual novel adventure with a match-3 type game. We play the role of a Fujisawa Academy student who, using his magical powers, tries to solve the seven secrets of the school.
Adventure | logical elements | 2D | visual novel | combine three elements
Kotodama: The 7 Mysteries of Fujisawa is a combination of a visual novel adventure and match-3 type game. The game was developed by the Japanese studio Art Co., known for creating Unchained Blades jRPG released on Nintendo DS and PSP consoles. The producer and publisher of the title are PQube, a British company specializing in publishing of games from Japan. Kotodama: The 7 Mysteries of Fujisawa is the result of their first attempt to establish direct cooperation with a Japanese developer.
Plot
At the beginning of the game players choose the gender of their hero, who as a first-grade student begins studies at the Fujisawa Academy. The seemingly ordinary school hides many secrets, which resulted in the creation of a legend about seven dangerous secrets hidden by the institution. Shortly after the first lessons begin, players join a club that studies the supernatural, whose members' aim is to discover the truth about all seven of the academy's secrets. The demonic fox, with whom players make a pact, will help them on this mission, receiving the power of Kotodama, the power of words, allowing players to find the necessary clues. History in Kotodama: The 7 Mysteries of Fujisawa is divided into seven chapters and offers several different endings.
Mechanics
The gameplay in Kotodama: The 7 Mysteries of Fujisawa is divided into two segments. The first one is the classic visual novel, in which players read subsequent chapters of history, enriched with static illustrations and portraits of characters. The second is the logical mode, which visualizes the powers of Kotodama that we use. When players meet a character who may know something about one of the seven secrets of the school, they move him to a magical interrogation room, trying to get the clues and information they need from him.
In logical mode, the screen is divided into two parts. On the left, there is a colorful puzzle. Players have to combine at least three blocks sharing the same color. In this way they increase the satisfaction rate of their opponent. In order not to lose one has to fill it up to the appropriate level in a limited number of moves. On the right side, one can see the silhouette of the interrogated hero. Every time a combo is built, he loses another part of his wardrobe, which is a sign that players are getting closer to getting another clue. After completing the puzzle, one can repeat it many times using a dedicated option in the game menu.
Technical aspects
Kotodama: The 7 Mysteries of Fujisawa has standard visuals, to which we are accustomed by Japanese visual novel productions. All dialogues were dubbed by professional actors.
Game mode: single player
PEGI rating Kotodama: The 7 Mysteries of Fujisawa
Kotodama: The 7 Mysteries of Fujisawa System requirements
Minimum:
Intel Core i3-2120 3.3 GHz
4 GB RAM
graphic card 1 GB GeForce GTX 460 or better
2 GB HDD
Windows 7/8.1/10 64-bit
Recommended:
Intel Core i5-4440 3.1 GHz
8 GB RAM
graphic card 1 GB GeForce GTX 560 or better
2 GB HDD
Windows 7/8.1/10 64-bit