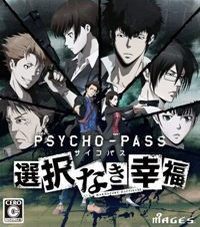 Psycho-Pass: Mandatory Happiness for PC, PS4 and etc. is a Japanese science-fiction visual novel/adventure game developed by 5pb, the authors of numerous games with a similar gameplay style, including Corpse Party: Blood Drive, or Robotics; Notes.
Plot
The game takes place in the world of Psycho-Pass – a Japanese animated series describing a grim vision of 2113, in which an advanced computer system called Sybil monitors the actions, thoughts, and emotional state of all citizens, calculating a probability of a criminal behavior for each person. If the probability is too high, the police forces engage in a search for the culprit, either arresting or eliminating him on the spot. The campaign of Mandatory Happiness takes place parallel to the first season of the series.
We follow the story of two novice members of Unit One of the Public Safety Bureau's Criminal Investigation Division, the outfit responsible for carrying out the Sibil sentences – Takuma Tsurugi, also known as the Executor, who've been sentenced to death as a result of a too high probability, but managed to save his life by joining the police forces, and Nadeshiko Kugatachi – a man without memory, and an Inspector supervising the work of Executors.
Mechanics
Psycho-Pass: Mandatory Happiness is a classic visual novel adventure game. This means that most of our playthrough involves following the plot, shown through text, pictures, and short animated sequences. From time to time, we are left with a choice of a few alternative outcomes – the choices made in that moment have a serious influence over the story, leading it on one of a few alternative paths. As a result, the player has to complete the game more than once to learn all of the alternative stories.
Aside from typical constrictions of a visual-novel, Psycho-Pass: Mandatory Happiness offers much more freedom and nonlinearity than most games from this genre. Even the choice of the hero changes the plot drastically, while choices; small, as well as major ones are numerous and also influence the Sibil estimate. This means that less cautious players can end their playthrough prematurely and with unresolved cases.
Age Rating
age requirements: everyone
System requirements
Minimum:
Intel Core i3 3 GHz
3 GB RAM
graphic card 2 GB Intel HD Graphics 4000 or better
3 GB HDD
Windows 7/8/10
Recommended:
Intel Core i3 3.1 GHz
3 GB RAM
graphic card 2 GB Intel HD Graphics 4000 or better
3 GB HDD
Windows 7/8/8.1/10