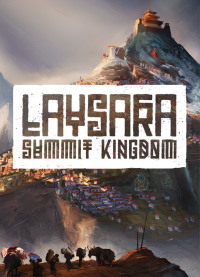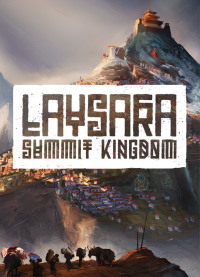 Laysara: Summit Kingdom
PC
City builder type strategy game in which we build cities on the slopes of high mountains, like in Nepal or Tibet. In Laysara: Summit Kingdom we have to take care of the interests of the whole caste community, create transport networks and protect against destructive avalanches.
Strategy | Economic | Polish | indie games | city builder
Laysara: Summit Kingdom

Release Date PC

2023
developer: Quite OK Games publisher: Quite OK Games

game language: English
Laysara: Summit Kingdom is a city builder in which we raise cities on the slopes of high mountains. The game was developed by an independent Polish studio Quite OK Games.
Plot
Laysara: Summit Kingdom takes us on a journey to Nepal where life in the valleys became impossible. In order to survive, people have moved with their dwellings to the slopes of the highest peaks.
Game mechanics
In Laysara: Summit Kingdom we watch the action from a top-down view. During the game we build cities from scratch, located on the slopes of huge mountain massifs. Each peak differs in structure, which should be taken into account when determining the location of the settlement and choosing its specialization. While vast, tree-covered stretches of land are perfect for farming, if you have only small and steep slopes at your disposal, you should focus on breeding animals and mining.
But that's not all the problems we have to face. Transport networks also play an important role here. If the terrain is kind to us, cleverly planned roads will suffice to transport resources and products. However, on mountains crisscrossed by rivers and canyons, as well as full of precipices and cliffs, we have no choice but to use bridges, underground shafts and elevators (the latter sometimes stretching tens of meters upwards). As our city grows, our need for resources increases, so our transportation networks need to be continually improved and optimized. Sometimes it may be necessary to cooperate with other cities and acquire resources through trade. Moreover, it's worth remembering that each of the three castes making up our city's community has its own interests and needs, which must be taken care of if we want our settlement to prosper.
Even if we have everything ready, nature may sooner or later show us that it has an advantage over us. As it happens in the high mountains, a snow avalanche may pass through our settlement at any time, which, if we don't protect ourselves properly, may destroy our efforts. Fortunately, in the clash with the elements we are not completely defenseless, because we can build special dams or bet on natural barriers in the form of dense forests. Sometimes a good solution is also to provoke an avalanche artificially.
A kind of crowning of our actions, and also the proof that the mountain "gave up" is building a huge temple on its top. This task is difficult as it requires obtaining and transporting huge amounts of materials. The problem is also the weather conditions at the top, which can be deadly for our subjects.
Game modes
Laysara: Summit Kingdom includes an extensive campaign and a sandbox mode.
Technical aspects
Laysara: Summit Kingdom features high quality graphics. Both the architecture and the environment of our cities look pleasant to the eye.
Last updated on 30 January 2023
Game mode: single player
Age restrictions Laysara: Summit Kingdom: Good for all ages.
Laysara: Summit Kingdom System requirements
Minimum:
Intel Core 2 Quad
4 GB RAM
graphic card 2 GB GeForce GTX 660 or better
12 GB HDD
Windows 10 64-bit