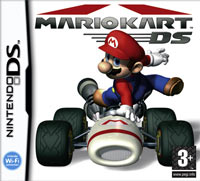 Game mode: single / multiplayer
Multiplayer mode: local network / Internet, players: 1-8

game language: English
game release date for NDS:
14November2005
Koopa Shells will be flying world-wide with the release Mario Kart DS this fall. The acclaimed Mario Kart series is going wireless, letting you race and battle with an all-star cast that includes Mario, Luigi, Peach, Yoshi, Donkey Kong, Wario, Bowser, and Toad!
Features
•Drive the competition off the roadways anytime, using Nintendo Wi-Fi Connection.
•Compete with up to four people wirelessly using Nintendo Wi-Fi Connection or up to eight people using one game card with local wireless connection.
•Race on 30 courses designed to replicate the best tracks from past games as well as all-new courses.
•Keep one eye on the map and the other on the action with dual-screen gameplay.
Nintendo Wi-Fi Connection
There's always someone ready to play!
Now you can take on your friends wherever, whenever! By connecting to Nintendo Wi-Fi Connection, you can match yourself against friends, recent rivals, or even others in your skill level, both domestic and worldwide. For more information, stay tuned to www.nintendowifi.com.
Total Shell-Tossing Mayhem!
Mario Kart's always been an intense multiplayer experience, and now you can connect up to eight players at once for insane multiplayer races and no-holds-barred battles. You can even have eight-person matches using a single game card!
As you race, be sure to watch the bottom screen as you dodge incoming items and keep track of other racers. If you want to change the map view, it's as easy as tapping the touch screen. The touch screen can also be used to customize your name and kart emblem for personalized racing.
Ways to Race
In addition to Nintendo Wi-Fi Connection, Mario Kart DS features five different game modes. VS and Battle are available in Multiplayer Mode for up to eight players, and all modes are available for single players.
Grand Prix
In Grand Prix Mode, the driver who earns the most points at the end of a four-course Cup is the victor. Mario Kart DS features eight different cups, with each cup featuring four different tracks.
Time Trials
Your object in Time Trials Mode is to get the fastest time you can on a single track. You can save your best runs as ghost data and share them with a friend.
VS
In Single Player Mode, you'll race against computer-controlled karts. In Multiplayer Mode, you'll race against human opponents who play using their own Nintendo DS systems.
Battle
There are two types of battle matches: Balloon Battle and Shine Runners. In Balloon Battle, your goal is to pop your opponents' balloons before your own balloons are popped. In Shine Runners, the driver who collects the most Shine Sprites is the winner.
Missions
In this mode, you are given sets of specific missions you must clear in order to move on to the next set of missions. You can be sure that a big surprise awaits at the end.

Game score 8.79 / 10 calculated out of 278 players' votes.
Similar games:
PEGI Rating
System requirements
Uses:
Nintendo Wi-Fi Connection