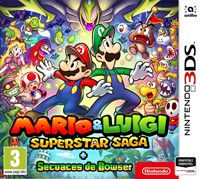 game language: English
game release date for 3DS:
06October2017
Mario & Luigi: Superstar Saga + Bowser's Minions is a 3DS remake of the 2003's Mario & Luigi: Superstar Saga developed by AlphaDream and released on Game Boy Advance. Apart from the improved visuals, the game offers additional features such as the compatibility with amiibo™ Super Mario figures (along with the game's release the developer introduced two new figures – Goomba and Koopa Troopa), and the additional game mode – Minion Quest: The Search for Bowser
Plot
During the game, the titular Mario brothers join forces with their archenemy – Bowser and together they set off to the Beanbean Kingdom to retrieve the Princess Peach's voice, stolen on one of her voyages.
Mechanics
The game is an unusual arcade RPG featuring the turn-based combat. Players get to control two characters – Mario and Luigi. When exploring the in-game locations, one controls only one character, which is followed by the other one, however, when performing actions such as jumping, a player has to press buttons for each character separately. The gameplay resembles classic platform games. Together, Mario brothers traverse the locations, jump over chasms, and exhibit unique abilities that can be used when solving simple puzzles – for example, Luigi can hit Mario with his hammer to make him smaller and allow him to crawl into previously inaccessible places.
Combat differs significantly from the exploration – a player cannot move his characters at his pleasure; however, one can dodge enemy's blows, jump over the incoming shots, and perform other moves by choosing from the available commands. The main protagonists can thus jump on enemies' heads, strike them with the aforementioned hammer, and perform together special attacks.
Game modes
Apart from the story campaign, the 3DS release of Mario & Luigi: Superstar Saga + Bowser's Minions features a mode that was unavailable in the original release, namely the Minion Quest: The Search for Bowser. It presents the adventures of Mario brother from the perspective of other characters – Captain Goomba, ShyGuy, Boo, and others.
Technical aspects
Mario & Luigi: Superstar Saga + Bowser's Minions is a remake in the true sense of the word. The developers held on to the visuals' style, however, they have improved the character models and made sure to implement better lighting effects. All this makes for a quite decent experience.

Expectations: 9.2 / 10 calculated out of 2 players' votes.
PEGI Rating