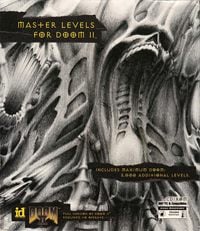 Game mode: single / multiplayer
Multiplayer mode: local network, players: 1 - 4

game language: English
game release date for PC:
26December1995
Master Levels for Doom II is a set of additional levels for Doom II: Hell on Earth from 1994, prepared by id Software in cooperation with GT Interactive. The production is the game's response to an avalanche of unofficial (and often paid) map packs, created by players who want to get rich thanks to the huge popularity of Doom.
The set includes twenty new levels, licensed and supervised by several independent artists, such as John W. Anderson, Jim F. Flynn, Christen David Klie, Sverre Andre Kvernmo, Tom Mustaine and Tim Willits. There is also a hidden 21st level called The Express Elevator to Hell. Due to the specificity of the set, individual maps are not combined into episodes typical for Doom games - each of them acts as a separate thing. In terms of quality, however, they are in no way inferior to the original levels, and in some aspects even surpass them.
At the same time, it is worth noting that the game also comes with Maximum Doom, an expansion consisting of 3,493 maps, divided into 1,830 WAD files. Unlike Master Levels, however, this package consists only of levels created by players and available on the Internet for free.