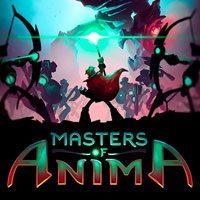 Masters of Anima is a PC, PS4 and etc. action adventure game set in an fantasy world. It is the work of French studio Passtech Games, who also developed Space Run and Space Run Galaxy.
Plot
The story of Masters of Anima takes place in a fantasy world known as Spark, in which the most important resources is titular magical energy – Anima. A huge concentration of it in the wild can even bring mighty golems to life, and inhabitants of the world learned how to tame and use it for their purposes, with those specializing in it being called Shapers. Players' character, a young man named Otto, strives to become Master of Anima, as having it is the only way he can marry his fiancé Ana.
The campaign starts with Otto returning successfully from a practical test, as he discovers that Ana has been assaulted by an evil Zahr, who stole her magical essence to create an army of golems that will conquer the world for him. The hero quickly goes after him to save his fiancé and foil Zahr's plan.
Game mechanics
As an action adventure game, Masters of Anima for PC, PS4 and etc. uses a camera located high behind the hero's head, and gameplay focuses on exploration, puzzles and fights against hordes of enemies, including powerful bosses. What makes the game stand out from other titles is that players' character is practically defenseless. Instead of his own battle prowess, he has to rely on the Guardians, magical creatures summoned with Anima. Players can control even hundred them at once through simple commands. They are the only mean of facing opponents and obstacles, while also helping during regular exploration.
There are several types of Guardians in Masters of Anima, each with unique characteristics. The game also features small RPG elements, as players earn experience points to improve Otto's skills and strengthening Guardians.
Technical aspects
Masters of Anima offers good-looking three-dimensional visuals filled with bright colors and cartoon design of the world.
Similar games:
PEGI Rating
System requirements
PC / Windows
Recommended: Intel Core i7-3820 3.6 GHz, 8 GB RAM, graphic card 2 GB GeForce GTX 760 or better, 2 GB HDD, Windows 7/8/10
Minimum: Intel Core i3-2125 3.3 GHz, 4 GB RAM, graphic card 1 GB GeForce GTX 560 or better, 2 GB HDD, Windows 7/8/10