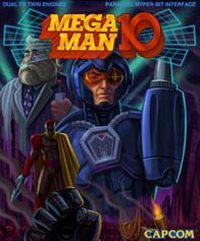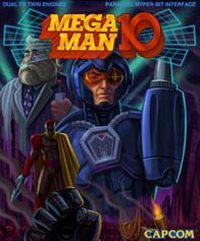 Mega Man 10
The next installment of one of the most popular series of platformers. You play the fearless Mega Man and fight against hostile enemies - humans and robots.
Mega Man™ 10 is coming to Nintendo's WiiWare™ service, Xbox LIVE® online entertainment network, and PlayStation®Store in March 2010. Mega Man 10, the latest entry in Capcom's long-running series, will return gamers to the nostalgic perfection of classic 2D Mega Man gameplay, embracing retro platform action and NES-inspired old-school graphics.
The year is 20XX and a suspicious outbreak of Roboenza, a Robot Flu, has broken out. It spreads through the world like wildfire bringing down robots everywhere. Infected robots have rampaged out of control, destroying the city and holding it hostage! Who's behind this mess? It's up to Mega Man to take on this sinister threat and get to the bottom of this viral mystery.
Through-out Mega Man's adventure he'll take on the malfunctioning infected robots and classic-style bosses that can only found in Mega Man games. Each one has their own unique weapons and vulnerabilities. Of course the creator of the original Mega Man, Keiji Inafune, is in charge of directing and supervising those boss character designs and delivers the wildest villains the series has seen yet.
Great new additions to Mega Man 10 include the option to play as fan-favorite character Proto Man from the start, as well as an all new "Easy Mode" which will allow more fans to indulge in the challenges that make the series great. Additionally, "Mega Man Challenges" mode will allow players to practice their skills and prepare for the hair-raising adventures ahead of them.
Launching March 2010 for all three gaming platforms, Mega Man 10 is the must- have download for Capcom fans both young and old. The retro elements will make this a delicious treat for those who long for the days of nail-biting platform experiences and the new difficulty mode will definitely allow more gamers to enjoy this incredible skill-based romp.
Features:
- A brand new Easy Mode will help lower the entry barrier to the Mega Man series for new fans and novice action gamers.
- Retro 8-bit graphics and sound combined with Mega Man's classic yet simple gameplay
- Proto-man is now available from the start of the game!
- New boss designs supervised and directed by Inafune-san, the creator of Mega Man.
- Unique stages include: Old Castle, Highway, Iceberg, Stadium and more.
- Mega man Challenges mode will allow players to practise-up on their skills and prepare for the hair-raising adventure ahead of them.
Last updated on 18 December 2009
Game mode: single player
User score: 5,9 / 10 based on 27 votes.
PEGI rating Mega Man 10
Mega Man 10 System requirements
Uses:
PlayStation Network