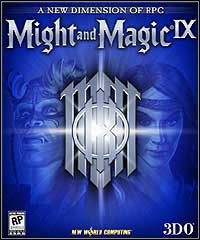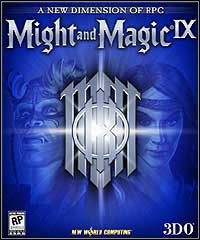 Might and Magic IX: Writ of Fate
PC
The ninth installment in the cult RPG series by New World Computing. The action of Might and Magic IX: Writ of Fate is set in a new region of the world known from Heroes of Might & Magic IV.
RPG | FPP | fantasy | Might & Magic | classic RPG
Might and Magic IX: Writ of Fate

Release Date PC

29March2002
developer: New World Computing publisher: 3DO Company Official website

game language: English
Writ of Fate is the ninth installment of the Might & Magic series – one of the most recognizable franchises of the RPG genre. The story unfolds in a different region of the world known from Heroes of Might & Magic IV. Depending on the player's actions, the conflict tormenting the lands can either be quenched or intensified.
Plot
The adventure begins when the player's ship, sailing from Cheh'dian to Mendossus, crashes upon the Isle of Ashes in the middle of the Verhoffin Sea. The players begin the game as a single character that needs to reassemble the scattered team and then find a way out of the island. The main quest will be uniting the Cheh'dian tribes against the Beldonians, a common foe from the west. The leader of the Beldonians, emperor Tamur Leng controls the eponymous Writ of Fate, which prophesized that he's the one to bring the old glory to the Ursanian Empire. In order to do that, all provinces must fall.
Mechanics
Might & Magic IX utilized a new graphic engine – LithTech 2.5 by Monolith. Similarly to previous installments, this entry also features a first-person perspective. The players can control a team of four, with the ability to get additional NPCs on board, who can provide additional skills. During character creation, players can chose one of four races (human, elf, half-orc or dwarf) and eight different classes. There are 23 skills that can be developed and 40 spells to learn within a brand new magic system. The game features over 60 missions, including 26 promotional quests, 20 main quests, and 21 side quests. All this takes place on 10 enormous locations that contain over 40 underground labyrinths and dungeons.
Last updated on 10 December 2007
Game mode: single player
Media type: 2 CD
User score: 7,2 / 10 based on 746 votes.
PEGI rating Might and Magic IX: Writ of Fate
Might and Magic IX: Writ of Fate System requirements
Recommended:
Pentium II 500MHz
128MB RAM
graphic card