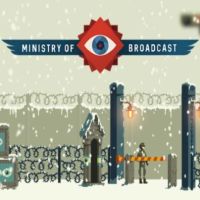 Ministry of Broadcast is a combination of an adventure game with a platform game from the studio of the same name, Ministry of Broadcast, and is published by Hitcents and Playism. The game was inspired by such cultural works as Prince of Persia (1989), Oddworld: Abe's Exoddus and George Orwell's "1984" (a novel about dystopian life in the superstate of Oceania, where the government controls every aspect of everyday life). The game tells the story of a totalitarian citizen of the state who has to take part in a quiz show in order to join his family.
Plot
Ministry of Broadcast presents the history of a totalitarian citizen of the state. Surprisingly and without warning, the country is divided by a wall. Our hero was thus separated from the family to which he would like to return. However, the only way to achieve this is to take part in a state-run quiz show.
Mechanics
Ministry of Broadcast is a combination of adventure and platform game with elements of solving environmental puzzles.
A lot of things can kill you. As with most platformers, the Ministry of Broadcast must be prepared for the obstacles that want to take our lives away from us. Starting with traditional thorn holes and ending with burning barrels. However, not all hazards can be overcome by perfect hand-eye coordination. Some of them require to solve an environmental puzzle.
You must pay special attention to the surroundings. Urgent observation of what is happening on the monitor is not only useful in the context of solving puzzles. The whole game is constructed in such a way that we absorb the plot and the atmosphere by carefully observing what appears on the screens moving before our eyes. There are no health strips, minimap or text walls in the game - all the information you need is woven into the world around you.
Game modes
Ministry of Broadcast is a single player game.
Technical aspects
Ministry of Broadcast has a well-fitting and solidly produced pixel art design, dominated by dirty and gray colors, harmonizing with the atmosphere of a soulless and ubiquitous totalitarian state.
Similar games:
PEGI Rating
System requirements
PC / Windows
Recommended: Dual Core 2.0 GHz, 4 GB RAM, graphic card 1 GB GeForce GTX 460 or better, 2 GB HDD, Windows 10
Minimum: Intel Pentium 4 1.2 GHz, 2 GB RAM, graphic card 512 MB GeForce 8800 or better, 1 GB HDD, Windows 7