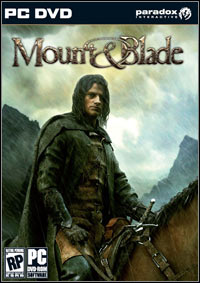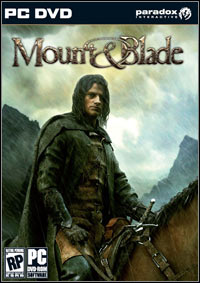 Mount & Blade
PC
Way of the Sword
A unique combination of RPG mechanics with a strategy game, created as the debut project of an independent developer, TaleWorlds. The player assumes the role of an adventurer who arrives to Calradia, a realm divided into several rivaling kingdoms.
RPG | the middle ages | Chivalry | elements of strategy | action RPG
Mount & Blade

Release Date PC

16September2008
developer: TaleWorlds publisher: Paradox Interactive Official website

game language: English
Mount & Blade is a game that combines strategy with action-based combat and strong RPG elements. This is a debut project of an independent Turkish developer TaleWorlds.
Plot
The player assumes the role of an adventurer that arrives to the realm of Calradia, divided into several rivaling kingdoms. Such cumulation of independent nations sharing one land sparks regular conflicts and heated wars. As a result, the once mighty, prosperous Calradia, now after decades of inner struggle, stands on the verge of collapse. However, Mount & Blade does not offer a story campaign. Instead, it gives the player full freedom of shaping the adventures.
Mechanics
Mount & Blade combines elements of action game, RPG, and strategy. Gamepley is two-fold: you journey around the world in the map view, but when you enter towns and villages or fight battles, the game goes into TPP/FPP action view, in which you have direct control of your character. The party that fights along you in battles can be recruited from among villagers or hired mercenaries, whom you can find in city taverns.
Army management is an important aspect of Mount & Blade gameplay. You have to take care of logistics and finances, as well as decide whether to attack an enemy army at the moment or run away, thus saving your men's lives. Unlike other games of the genre, combat in Mount & Blade is based on reflexes and timing. In order to make the game more realistic the developers did not include healing potions or anything of the kind. It takes just a couple of well-aimed strikes by an enemy sword to take you down, therefore an essential move in combat is blocking incoming strikes. Like in actual medieval combat, a horse rider has an advantage over a foot soldier. Besides, the game features equally realistic archery – you can even shoot from horseback.
Combat is the heart and soul of Mount & Blade, but the game does not end there. You can also talk to denizens of Calradia, trade with merchants in cities, or take various assignments. As you progress in the game, both your hero and his soldiers gain experience and learn new skills.
Technical aspects
Mount & Blade features 3D graphics, however, its quality and level of detail never was the game's strength. The atmosphere of a medieval world is enhanced by apt music.
Last updated on 09 January 2012
Game mode: single player
Media type: 1 DVD
User score: 8,6 / 10 based on 3982 votes.
PEGI rating Mount & Blade
Mount & Blade System requirements
Recommended:
Pentium 4 2 GHz
512 MB RAM
graphic card 64 MB (GeForce 4 Ti4200 or better)
700 MB RAM
Windows XP