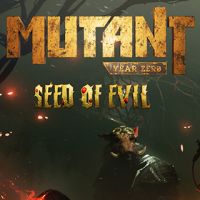 Seed of Evil is the first expansion to Mutant Year Zero, a direct continuation of the game. Again, we will direct the fate of the mutants known to us, from whom new secrets to solve, opponents to defeat and locations to visit. The Bearded Ladies studio is responsible for the game.
Plot
The action of Seed of Evil takes place directly after the events of the first part. We will find out how the Spreaders coped with the knowledge gained at the very end of the game and how it affected them. Now, however, Duks, Bormin, Selma and others have to solve another riddle, concerning the mysterious roots entangling Ark, their mother base. Especially since the roots threaten the lives of inhabitants of the Ark and Ghulls living in the area, changing them beyond recognition. It is on our shoulders to discover what lies behind this specific vegetation and to find ways to stop its negative effects.
Mechanics
The Seed of Evil kernel hasn't changed. We are still exploring various locations, collecting items scattered around them, for which we can later improve our equipment (by upgrading its parts or replacing it with a new one), we fight in turn battles with monsters and crazy individuals encountered on our way.
This add-on gives us an option to add a new Mutant to our team. It is the experienced Big Khan who, as a result of the mutation, has taken on the appearance of a moose. He prefers a lonely lifestyle and is skilled in moving around the Zone. It has a unique mutation in the form of Ground Pound and Flame Puke, and specializes in critical hits. All this makes him a perfect hero for group battles.
New improvements are waiting for the Mutants known from the basic version of the game. For example, we can improve Duks' ability from Moth Wings to Wings of the Sniper, which removes all range penalties from shots when flying. We can also improve the Corpse Eater ability to eat the bodies of fallen enemies and restore life points at the expense of action points. Now, however, this ability can evolve in the Corpse Feaster, so recovering HP no longer costs an action point. There are many more such abilities in the game.
In the game we visit various locations. We will return to well-known ones such as Heaven's Spear and Morse Titans, which since our last visit have been full of much more powerful Ghouls and police bots. However, we are facing completely new locations, such as the Hall of Electric Coffins and the Mausoleum of Suburbia. We will meet a new kind of opponents who require us to use unusual tactics.
Technical aspects
Mutant Year Zero: Seed of Evil invariably shows a postapocalyptic picture that is softened by the black humour of the Mutants.
Similar games:
PEGI Rating
System requirements
PC / Windows
Recommended: Intel Core i7-6700K 4.0 GHz / AMD Ryzen 5 1600X 3.6 GHz, 8 GB RAM, graphic card 4 GB GeForce GTX 970 / Radeon RX 480 or better, 8 GB HDD, Windows 7/8/10 64-bit
Minimum: Intel Core i5-760 2.8 GHz / AMD Phenom II X4 965 3.4 GHz, 6 GB RAM, graphic card 1.5 GB GeForce GTX 580 / 2 GB Radeon HD 7870 or better, 8 GB HDD, Windows 7/8/10 64-bit