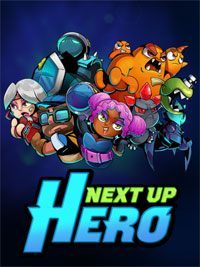 Game mode: single / multiplayer
Multiplayer mode: Internet
Next Up Hero is an original action RPG developed by Digital Continue – a team created by Joe Tringali, who is known for working on such games as Scribblenauts, Lock's Quest, and Drawn to Life. The game described herein is available on multiple platforms, including PC, PS4 and etc..
Mechanics
In Next Up Hero for PC, PS4 and etc., the player gets to control one of the titular heroes and is tasked with eliminating all enemies lurking inside the Spiral Shards – that is procedurally generated labyrinths. As a single hero often stands no chance against the foes at hand, one of the keys to success lies in... dying on the battlefield. A fallen hero leaves behind the so-called Echo that can be revived by another player; this does not mean that one's role ends there – players can continue the game and heal their hero to eventually rejoin the battle. Interestingly enough, the bigger an army one controls, the bigger are chances of his or her success – this is how consecutive victories are earned not by individuals but by the entire community.
Similarly to classic games from the same genre, in Next Up Hero for PC, PS4 and etc. players observe the action from the top-down perspective and get at their disposal nine heroes, each one featuring different preferred equipment and unique skillset. Heroes' combat potential increases as one progress through the game. The opponents (apart from the regular ones, there are also much more powerful bosses) can be eliminated with melee and ranged weapons including boomerangs, rocket launchers, and laser cannons. Moreover, players can freely customize their character as they see fit by changing his or her appearance and taking attack techniques from the defeated enemies.
Game modes
Apart from standard challenges, the creators of Next Up Hero release the so-called Champion Trials on a monthly basis. These trials are designed for the strongest of all heroes. Moreover, there is nothing standing in players' way to come up with their own challenges.
Technical aspects
The PC, PS4 and etc. release of Next Up Hero features pleasant cartoonish style – players are bound to appreciate the rich color of the overall experience. During all the dynamic battles players are accompanied by the atmospheric soundtrack.
System requirements
PC / Windows
Minimum: Intel Core i3 3.4 GHz, 8 GB RAM, graphic card 1 GB GeForce GTX 650 or better, 5 GB HDD, Windows 7/10