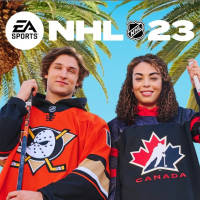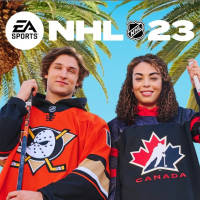 NHL 23
Another installment of the popular series about ice hockey, developed by EA Sports. NHL 23 focuses on developing elements familiar to players rather than revolutionizing gameplay relative to previous installments.
Sports | ice hockey | for 2 people | splitscreen | Find Your Next Game
NHL 23 is the next installment in the series of ice hockey simulators developed by EA Sports. For the first time in the history of the series, in addition to men, female players were put at our disposal, allowing us to create mixed or all-female squads. The title develops concepts known from previous installments and offers even more faithfully recreated players and stadiums.
Game mechanics
The scheme of play in NHL 23 does not differ significantly from the control of teams in other team games from the hands of EA Sports. After the match starts, we control one player at a time, changing him as needed with the appropriate button. We observe the whole game from a chosen perspective, usually from a camera typical of television broadcasts. The rules correspond to real field hockey, except for the time - for the purposes of the game, periods have been accelerated to make the matches more dynamic.
When designing the behavior of the players, the developers were keen on a reliable reproduction of their movements. In addition to the standard actions, such as passing, shooting, agility or change of pace of movement, the Last Chance Movement system was also made available. It consists of performing a desperate action at a moment when we are already close to losing the puck. The move has a slight chance of giving us an advantage despite the rival taking control, making it difficult for him to play further.
Game modes
NHL 23 offers several modes of play, in which it is possible to play both alone and with other players over a network or shared screen. In basic mode we play single matches between any teams. In League mode we create our own competitions, setting the number of teams, matches between them and player salaries. In Ultimate Team mode, on the other hand, we create our own team: we sign contracts with players, arrange their training sessions, manage the club, and then face other players. In addition, thanks to EASHL functionalities, we can narrow down the search field of other people to play together based on their skills and adopted tactics.
The title lets us play cross-platform between consoles within the same generation, i.e. between PlayStation 4 and Xbox One, as well as PlayStation 5 and Xbox Series X.
Technical aspects
Thanks to its reliance on the Frostbite engine, NHL 23 presented a high level of graphics at the time of its release. Of particular note are the faithfully reproduced players, stadiums and the vividly reacting crowds in the stands.
Game mode: single / multiplayer Multiplayer mode: Internet
PEGI rating NHL 23