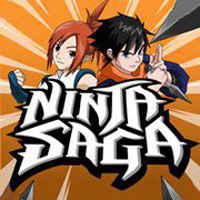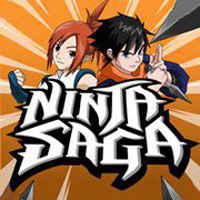 Ninja Saga
WWW
JRPG community game set in Asian climates. We play the role of a novice ninja warrior, entrusted with the extremely difficult task of reclaiming powerful scrolls to summon legendary Defenders. The core of the game are turn-based clashes and cooperation with friends.
RPG | fantasy | turn-based | Facebook | ninja | jRPG
Ninja Saga

Release Date WWW

17May2011
developer: Ninja Saga publisher: Ninja Saga Official website

game language: English
Mighty, majestic, sacred, for generations the legends of the five Guardians are spread throughout the land of ninjas. These Guardians are said to have an unimaginable power. With their five powers combine, it is more than enough to destroy the land. The only proof of the Guardians' existence was the time of the Great Shinobi War, a war that almost annihilated each and every clan. The five Kages of the great villages of Fire, Earth, Wind, Water and Lightning used their Guardians to bring peace forth's the land. A historic event in which everyone bare witness as the five Guardians were summoned; the Flame Phoenix of Ra, Medussa the Sea Serpent, Great Wind Kabuto, Sodom of the Sand and the Lightning Ape Kong.
The end of the war signals the end of relying to the Guardians' power. The Kages agreed to seal their Guardians in a sealing scroll and keep it hidden in shrines built near each village. Ten years of peace will pass, the tale of the Guardians are somewhat forgotten. But the shadows hidden in the darkness will break this silence and once again attempt to bring chaos into the land, robbing all five scrolls of the great villages. The faith of the land will lie upon the hands of the young fire ninjas which will be caught in the middle of this grand scroll robbery. Will the ninja be... you?
Game mode: multiplayer Multiplayer mode: Internet
Age restrictions Ninja Saga: Good for all ages.