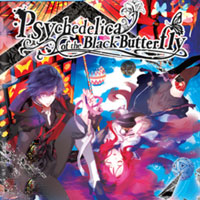 Psychedelica of the Black Butterfly
An otome visual novel adventure game. The players assume the role of a young female protagonist who wakes up in a giant, mysterious mansion. She doesn't remember who she is. The giant house is inhabited by dangerous monsters.
Adventure | horror | 2D | visual novel | arcade elements | Romance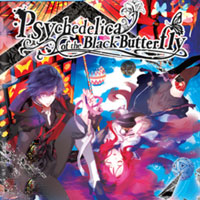 Psychedelica of the Black Butterfly is a visual novel adventure game in which the female protagonist wakes up in a mysterious and dangerous mansion. The game was developed by Otomate studios, a subsidiary of Japanese company Idea Factory. As the title suggests, the developers are specializing in developing otome games. Otome is a subgenre of visual novels that recently became more popular in the West. In these games, the main female protagonist – usually a young girl – becomes surrounded by handsome men with characteristic, stereotypical personality. Otome games usually feature many different endings and are focused mostly on romances between the protagonist and the selected men. It is worth mentioning that when compared to similar games. Psychedelica of the Black Butterfly focuses more on horror and mystery than on romance.
Plot
The protagonist of Psychedelica of the Black Butterfly wakes up in a mysterious mansion. She discovers that she can't remember who she is and what's her name. Soon she is attacked by a terrifying monster. She is saved by one of five men she encounters in the house. They also can't remember who they are. Together they decide to get out of the mansion and understand why they are kept captive in it. The mysterious owner of the mansion communicates with them through his servant, a girl in a bunny mask. He demands the main characters to find all pieces of a kaleidoscope. The pieces can be obtained from black butterflies that accompany the scary monsters.
Mechanics
The gameplay in Psychedelica of the Black Butterfly is typical for a visual novel game. Dialogue texts are presented on the screen. They are illustrated with two-dimensional, modestly animated portraits of characters and backgrounds. From time to time, the players must make a decision that impacts the current events and leads to one of a few endings. The players can also examine unlocked graphics in the gallery and retrace selected dialogues. The game also features action sequences in which the players must hunt butterflies that are flying through the screen. They must be quickly shot down with a crosshair. For shooting the butterflies, the players receive points that are used for unlocking new story paths.
Technical aspects
The graphics of Psychedelica of the Black Butterfly are of solid quality. Character designs and illustrations were drawn by Yuiga Satoru, the creator of a few manga series. She works in the industry since 1993. All dialogues were fully dubbed by professional Japanese actors.
Similar games:
PEGI Rating
System requirements
PC / Windows
Recommended: Intel Core i5, 8 GB RAM, graphic card 2 GB GeForce GTX 760 or better, 4 GB HDD, Windows 8.1 64-bit
Minimum: Intel Core i3, 4 GB RAM, graphic card 1 GB GeForce GTX 560 or better, 4 GB HDD, Windows 7 SP1