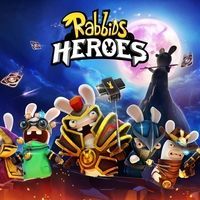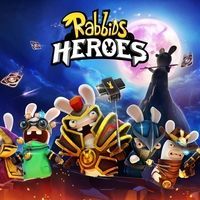 Rabbids Heroes
Rabbids Heroes is a tactical card game, which is a humorous response of Ubisoft to titles such as Hearthstone: Heroes of Warcraft or The Elder Scrolls: Legends.
Rabbids Heroes is a card game, in which the main role is played by nice, but crazy Rabbids - i.e. loony animals that first appeared in the popular series of platform games titled Rayman, and then lived to see their own series of games, and even an animated series, produced by Nickelodeon. The title is the responsibility of Ubisoft's internal branch, focusing on mobile productions.
Mechanics
Rabbids Heroes does not offer a particularly extensive story layer, focusing on the subsequent card game duels of Rabbids, whose aim is to win the title of master and reach the moon, the homeland of our heroes. The mechanics of the game clearly draw on the most popular card games, such as Hearthstone: Heroes of Warcraft or The Elder Scrolls: Legends, complementing it all with a few proprietary solutions and a proper dose of humour.
Our hero can assume one of five professions: knight, magician, ninja warrior, scientist or hunter. Each of them uses a unique set of crazy weapons and items, allowing players to choose their favourite gameplay style. At the heart of the game are the subsequent duels, which, unlike in the aforementioned Hearthstone, do not take place on the table where we put up our cards, but on a sort of segmented path. During the game we use a maximum of 20 cards, selected before the start of the fight from a gradually completed deck of 200 items. Successive victories enable us to progress our characters, thanks to which they grows in strength.
Game modes
Like most modern card games, Rabbids Heroes offers the option to play solo as part of a simple storyline. The essence of the game, however, are PvP duels with friends or other players from all over the world. We can refine our strategy in the training mode, which enables us to compete with the AI.
Technical aspects
Rabbids Heroes is characterized by its simple yet eye-catching graphics, typical of mobile production. Unlike most card games, kept in a rather serious fantasy setting, Ubisoft's production uses a cartoonish and highly humorous graphic style, known from earlier productions with the crazy creatures.
Game mode: single / multiplayer Multiplayer mode: Internet
App size:
Expectations: / 10 based on 1 votes.
Age restrictions Rabbids Heroes: 12+