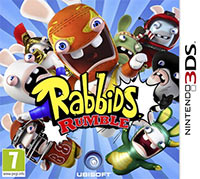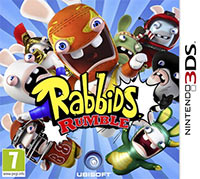 Rabbids Rumble
3DS
Rabbids Rumble is a collection of various mini games developed by Ubisoft with Mad Crazy Daughters in main roles. The biggest novelty is the turn-based battle system resembling the Pokemon series, in which we put the furs collected and trained by us for fighting.
Rabbids Rumble

Release Date 3DS

13November2012
Rabbids Rumble is a set humorous and creative mini-games based on the game series about Raving Rabbids, originated by Rayman Raving Rabbids, released in 2006. The game was developed by a subsidiary of Ubisoft company.
This time the crazy creatures run rampant in 9 diverse worlds. The player has to capture 100 Rabbids for his collection. The hunt is presented as a series of mini-games that use to the full technologies in Nintendo 3DS, such as 3D image or Augmented Reality. This allows for completely new ways of interaction with the unruly Rabbids. They can e.g. jump out of walls in your room or play around at your kitchen table.
The game features both single player campaign and several ingenious multiplayer modes. For the first time in the history of the series a turn-based combat system was introduced, similar to the one from the Pokemon series. Thus, fights are characterized by much tactical depth, combined with crazy humor typical of the franchise. Each Rabbid is equipped with a unique set of combat skills. Also, they can be trained in order to increase their statistics. An additional attraction is SpotPass feature, which allows you to import new rare characters to your console, and challenge friends to duels, in which you can win the opponent's creature.
Game mode: single / multiplayer Multiplayer mode:
Expectations: 8.8 / 10 based on 2 votes.
Age restrictions Rabbids Rumble: Good for all ages.