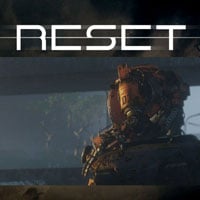 game language: English
game release date for PC:
2021
Reset for PC is a first-person perspective logic game with a so-called "solo cooperation mode". The title was developed by Finnish studio Theory Interactive founded by two former employees of Futuremark (the creators of the 3DMark benchmark and the shooter Shattered Horizon).
Gameplay
Reset takes place in a future world in which advanced technologies provide unusual possibilities. The protagonist of the game is able to bend time and space and create copies of himself from the future. The player can use them to solve various challenging and satisfying logic riddles. Not only the intellect matters, but the agility as well – some actions must be well synchronized.
The world of Reset for PC enables some freedom in selecting the tasks, but it is only an addition to the advanced, linear storyline. The developers are trying to tell an interesting story by using fancy methods, including impressive, cinematic cutscenes. The visuals of the game are a great advantage. Despite the low budget, Theory Interactive created a game the graphics of which are very impressive.

Expectations: 7.8 / 10 calculated out of 29 players' votes.