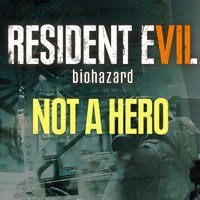 Resident Evil VII: Biohazard – Not a Hero is a free expansion to the PC, PS4 and XONE release of a survival horror game titled Resident Evil VII: Biohazard. Initially, the add-on described herein was intended to be released in spring 2017, however, developers from Capcom decided to polish the game a bit more, which resulted in the expansion's premiere in December 2017.
Plot
The action of Not a Hero picks up after the events shown in the base game. A mercenary by the name of Chris Redfield comes to the Bakers' residence to investigate its ruins and the underground tunnels. Chris works for Umbrella Co., which deals with gathering data from the abandoned Umbrella facilities
Mechanics
In terms of gameplay mechanics, the Not a Hero expansion for PC, PS4 and XONE is completely different from the base game, where Ethan Winters, a civilian, had to face the Bakers family. Redfield, on the other hand, is a well-trained soldier who has a modern arsenal at his disposal, which is perfect for fighting the creatures players might remember from the base game. Because of this, a player does not have to spend most of the time hiding from his opponents – instead, he gets to fight the enemies with his guns blazing. Obviously, the expansion described herein is still a survival horror game, so one has to save his ammo, explore the locations, and solve simple puzzles. Additionally, the Not a Hero expansion for PC, PS4 and XONE introduces new weapons, pieces of gear, and an entirely new, dangerous, types of enemies.
PEGI Rating
System requirements
PC / Windows
Recommended: Intel Core i7-3770 3.4 GH, 8 GB, graphic card 2 GB GeForce GTX 960/Radeon R9 280X or better, Windows 7/8/8.1/10 64-bit
Minimum: Intel Core i5-4460 2.70 GHz/AMD FX 6300 3.5 GHz, 8 GB, graphic card 2 GB GeForce GTX 760/Radeon R7 260X or better, Windows 7/8/8.1/10 64-bit