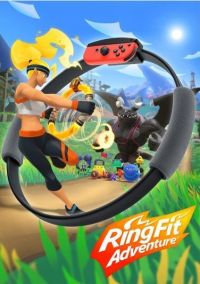 Game mode: single / multiplayer
Multiplayer mode: common screen / hotseat

game language: English
game release date for Switch:
18October2019
Ring Fit Adventure is a combination of action RPG and classic fitness game. The title is produced by one of the internal studios of Japanese Nintendo and is intended to be a successor to the extremely popular Wii Fit series, which by storm won the hearts of Wii users. The game is sold with two essential accessories (a leg strap and a flexible Ring-Con rim) for Joy-Con controllers.
Plot
The story behind Ring Fit Adventure is very simple and is just a pretext to start playing. The game takes us to the land of fantasy, which is dominated by sinister creatures led by a cunning dragon-culturist. We take on the role of a noble hero trying to defeat a huge reptile, thus freeing the world from its servants.
Mechanics
Ring Fit Adventure uses the formula of games from the runner genre. The action is observed from behind the back of the protagonist, who is running ahead of him on pre-determined paths on large three-dimensional maps. The pace of the hero's movement is influenced by running in a place with an armband on the leg to which one of the Joy-Cons is attached. Other actions, such as jumping, floating or raft control, are activated by means of a Ring-Con rim. The production contains a total of 100 levels, divided into 20 thematically and graphically diverse worlds.
In addition to environmental obstacles, we also face various kinds of opponents, which we fight in turn-based mode, similar to the one from many classic RPG games. Players can attack and defend themselves using more than forty unlockable abilities as they gain experience. They are divided into several categories, each of which is assigned to our fitness exercises that strengthen the arms, stomach, legs, and also require us to perform gymnastic figures known from yoga. By choosing the right combinations of attacks from different categories, we can deal more damage. Some enemies are susceptible or immune to the specific movements of our hero, which complicates the duels even more. Items such as health regenerating cocktails, which we can buy with earned gold or make with found components, also help us in our adventure.
Game modes
Apart from the basic gameplay mode, which is the adventure campaign, Ring Fit Adventure also has a few other fun variations. Quick Play mode allows for a quick session in selected adventure levels. Simple Mode allows players to select any exercise they want and perform it individually. The Sets Mode offers a sequence of different exercises designed thematically or with emphasis on a specific body part of your choice.
In addition, the creators have prepared twelve arcade mini-games, in which we can test ourselves or compete for points with family and friends. An additional interesting feature is the Silent Mode, designed for people living in multi-family buildings: it removes from the program exercises requiring us to run or walk loudly in a place.
Technical aspects
Ring Fit Adventure has a pleasant colorful and cartoon-like visual setting, which does not differ in quality from many other Nintendo productions on Switch. It is also worth adding a few words about the accessories sold with the game. Ring-Con is a flexible rim in which we put the right Joy-Con console. During the exercises we hold her with both hands and squeeze her. Its design provides resistance and incorporates a sensor which, thanks to its electronic components, recognizes the level of user effort. We put the left Joy-Con belt on the thigh. Thanks to the fasteners we can easily adjust its size to both the child's and adult's leg. Thanks to sensors built into Joy-Con, the title can track not only the player's pulse, but also the number of calories burned.
Similar games:
PEGI Rating