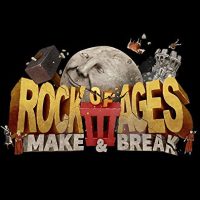 Game mode: single / multiplayer
Multiplayer mode: Internet / split screen, players: 1-4
Rock of Ages 3: Make & Break is the third installment of an absurd ball adventure combining tower defense with time challenges, with black humour that will ideally appeal to Monthy Python fans. ACE Team studio is responsible for the game, this time in cooperation with Giant Monkey Robot.
Plot
In Rock of Ages, as a big ball (or any other rolling thing) we destroy obstacles left by various characters known from history. Our task is to break through the defense of the opponent as quickly and effectively as possible, not exceeding the set time.
Mechanics
In the third installment of this crazy game, as we go through the main campaign, we will once again face the famous rulers and extraordinary characters - from Caesar and Montezuma to Krampus and the Spaghetti Monster. Each of these characters tries to protect himself from the attack of our ongoing destruction by putting up various types of obstacles in the form of buildings, armies and other difficulties. Our task is to direct the ball in such a way as to destroy obstacles in a specific time and gain as many points as possible.
In addition to the main campaign, the game offers several additional modes of gameplay. In front of us is the opportunity to steer a gentle Humpty Dumpty in a mode dedicated to it, where we need to master the control to perfection. We can also test ourselves in Avalanche Mode, where, while standing on the other side of the barricade, we have to skillfully construct various buildings, obstacles and weapons that will stop enemy forces from destroying our base. We also face time challenges, as well as creating our own maps, thanks to a special wizard.
Above all, however, the game focuses on re-enforceability through multiplayer gameplay, whether in local mode or online. Battles with other players are similar to the main campaign, but here some play the role of defenders and others the role of attackers.
During the game we control 20 types of balls (from the third person perspective), which differ not only in appearance, but also in characteristics. For example, we can find here a ball composed of sheep, a head of a statue, a circle of cheese, a stone fist, and others.
Technical aspects
Rock of Ages 3: Make & Break is a three-dimensional title with film interludes, in which the characters known from images or drawings take part in comic situations. In addition, each location in the game is inspired by a different period in the history of art, which affects the appearance of characters and maps in a way that is characteristic of the graphic style fashionable in a given era.
System requirements
PC / Windows
Recommended: Intel Core i7-4771 3.5 GHz / AMD FX-9370 4.4 GHz, 8 GB RAM, graphic card 4 GB GeForce GTX 970 / Radeon RX 470 or better, 3 GB HDD, Windows 7/8.1/10 64-bit
Minimum: Intel Core i5-760 2.8 GHz / AMD Athlon X4 740 3.2 GHz, 8 GB RAM, graphic card 2 GB GeForce GTX 660 or better, 3 GB HDD, Windows 7/8.1/10 64-bit