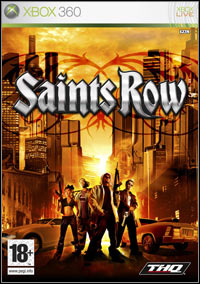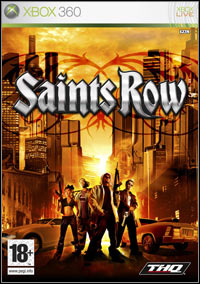 Saints Row (2006)
X360
A third-person action game by Volition which provides an alternative to the incredibly popular Grand Theft Auto series. The action of Saints Row is set in the fictional city of Stilwater where four gangs compete for influence.
Action | TPP | Gangster | TPS | Xbox exclusive titles
Saints Row (2006)

Release Date X360

28August2006
developer: Volition Inc. publisher: THQ Inc. Official website

game language: English
Saints Row is a dynamic action game for X360 that style-wise undoubtedly resembles the famous Grand Theft Auto series. The action takes place in the fictional city of Stilwater, and we take our first steps in the eponymous, sunken district that is a source of the spreading crime plague. Four gangs that are hostile to one another fight for influence in the metropolis. The players assume the role of a Third Street Saints member.
Plot
Words of truth are obviously spread by performing missions available on the streets of Stillwater, these include illegal races, escaping a crowd of paparazzi, or a traditional shootout to recapture a prostitute, among other things. Completing them successfully grants us respect in eyes of our competitors as well as a considerable cash inflow. What needs stressing is the fact that respect is key in Saints Row since it influences what tasks can we take on by unlocking them with time. Money, in turn, is spent on weapons, clothing, and various enhancements for our car that can be repaired no matter how badly damaged it is. What we drive and wear is not merely a visual decoration, though. The right appearance also has an impact on how we are viewed by the surrounding people.
Mechanics
While fighting the enemy, fortunately, the player is not alone. At any given moment, we can call for our colleagues' help who, for natural reasons, make combat easier. The extensive character creation system is another interesting feature of the game. It allows us to set even the smallest details of the protagonist's appearance such as nose's shape. Night robberies look spectacular in Saints Row, when, just like in movies, we break in and then run away with the cash we stole to the accompaniment of wailing sirens. Entering rooms is an element the developers put an emphasis on, anyway, thanks to which there is a myriad of potential targets available to hit.
Technical aspects
Saints Row is characterized by solid physics—it is especially visible when looking at objects' reaction to the applied force (meaning use of weapons). Explosions, which momentum is best symbolized by debris flying around, are also very impressive. The developers prepared over a hundred licensed music tracks that play in the background to which we can add our own songs.
Game mode: single / multiplayer Multiplayer mode: Internet Player counter: 1-12
Media type: 1 DVD
User score: 7,2 / 10 based on 763 votes.
Pre-release expectations: 9.9 / 10 based on 10 votes.
PEGI rating Saints Row (2006)
Saints Row (2006) System requirements