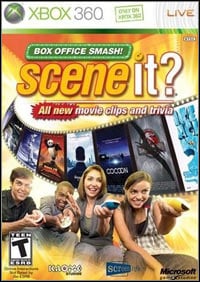 Scene It? Box Office Smash
X360
Another game from the Scene It series, which allows you to feel like a participant of the teletournament. Players are to answer questions about cinema.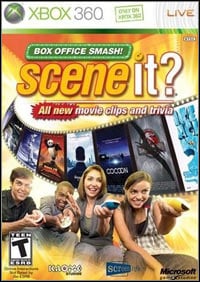 Game mode: single / multiplayer
Multiplayer mode: common screen, players: 1-4

game language: English
game release date for X360:
28October2008
Scene It? ® Box Office Smash for Xbox 360 brings movie and trivia fans together for a game that provides hours of laughter. Challenge your friends and family to see whose movie knowledge reigns supreme while you relive some of your favorite moments from the silver screen.
With all-new questions, more high-definition (HD) movie clips, and several new puzzle types, you have a trivia game overflowing with images plus audio and video clips from hundreds of films you know and love.
The new game lets up to four teams challenge one another from the comfort of your living room or across the miles via Xbox LIVE®. With the new Xbox LIVE experience, Scene It? Box Office Smash is the first game that lets you virtually put yourself into the game through custom avatars that respond to your play and react to one another throughout the course of the game.
New movies, questions, puzzle challenges: It's not just trivia—it's trivia about movies you love, with hundreds of all-new questions, audio clips, photo stills, and HD movie clips never seen before in any Scene It? game. All 22 puzzle types have been designed to provide the ultimate multiplayer experience on Xbox 360.
Pixel Flix: This new game lets you try to name the film after watching an old-school, eight-bit-style animation of a famous scene.
Celebrity Ties: This is a six degrees of separation challenge in which you must link together a series of clues to guess the answer.
Which Is Which: In this game, test your power of observation as you try to determine which of two similar movie stills match a particular movie.
Worldwide movie trivia: Movie fans in France, Italy, German, Spain, and the U.K. have even more to love, with content from some of their favorite local films included in versions of the game sold in their countries.
Online multiplayer: Airplane flights are expensive, and your friends are everywhere. Solution? A Scene It? match over Xbox LIVE. Better than a phone call, playing over Xbox LIVE builds new memories with old friends and the opportunity to test your knowledge against friends or movie buffs around the world with several new online multiplayer modes.
At the movies: With the new Xbox LIVE experience, you can put yourself into the game through custom avatars that respond to your play and react to one another throughout the course of the game.
More from Xbox LIVE: With downloadable content available via Xbox LIVE Marketplace and a content tracking system that minimizes question repeats, you always have a fresh play experience.
Big Button Pad: With the intuitive wireless Big Button Pad, even the most console-phobic person will play, and maybe even win. The game is available with four wireless Big Button Pads, or without for aficionados who already own them from the previous Xbox 360 game Scene It? Lights, Camera, Action.

Expectations: 10 / 10 calculated out of 1 players' votes.
Similar games:
PEGI Rating