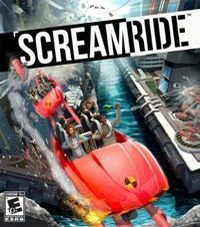 ScreamRide for X360 and XONE is another game by Frontier Developments with amusement parks as a theme. However, it is thematically closer to the 2013 Coaster Crazy for WiiU than the 2004 economic strategy game RollerCoaster Tycoon 3.
Mechanics
Unlike in the previously mentioned productions, in ScreamRide you do not exactly build an amusement park. The game is set in the near future. The rollercoaster tracks and other futuristic objects you can use serve scientific purposes and are supposed to aid you in researching the limits of human potential, which in turn can be used to improve the society.
In practice, it involves constructing the wackiest tracks and testing them on people; the more your subjects scream, the better. You can also test your track and steer the roller-coaster yourself in the arcade mode. Physics and destructible surroundings play an important role in the game; you can place many buildings around your "park" and then watch them fall apart spectacularly as a car loses traction and flies away. Interestingly, it is not always a bad thing, as sometimes the game rewards disastrous results.
ScreamRide features three game modes and 50 varied challenges. Like many other productions that give the player much creative freedom, the game comes with social options, focusing mostly on exchanging created tracks with other players.
PEGI Rating