Left 4 Dead Video Game Series
Video Games Encyclopedia by Gamepressure.com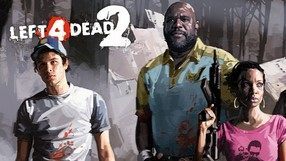 Left 4 Dead 2
Action 17 November 2009
A sequel to the popular 2008 co-op shooter game by Valve, in which you play as one of the four brand new characters and face hordes of virus-infected mutants, visiting previously unavailable locations in the American Southwest. Compared to the original, the mechanics remained mostly unchanged, while the biggest novelty is the introduction of several kinds of weapons to be used in close quarters combat. The game utilizes a new version of the AI Director system, up until now responsible for the direction the opponents were coming from and their spawning point. In Left 4 Dead 2 it controls also the weather conditions and some map elements, whose placement may vary in different playthroughs. The game features more maps than the first installment, both for the co-op campaign as well as the versus and survival modes.

Left 4 Dead
Action 18 November 2008
A co-op-oriented FPP action game and a unique combination of a Counter Strike-type shooter and survival horror. Left 4 Dead takes place in the apocalyptic United States, ravaged by a deadly virus, which got out of scientists' control and changes humans into bloodthirsty monsters. You play as one of the few survivors immune to the virus, and your task is to get out of a series of locations overrun by the mutants. However, you can either choose to stand on the other survivors' side (where 4 different characters are available) or join the mutants (where you can play as one of the four kinds of monsters with differing abilities). While the strength of the mutants lies mostly in their numbers, the survivors must cooperate closely with each other to win.