Train Sim World Video Game Series
Video Games Encyclopedia by Gamepressure.com

Train Sim World 2
Simulation Thursday, 20 August 2020
A sequel to the simulation game released in 2017 from the Dovetail Games studio, which allows players to take on the role of drivers. In addition to the following tracks and trains, Train Sim World 2 introduces a number of new features, including an advanced physical engine and a paint editor.
Train Sim World 2020
Simulation 15 August 2019
A simulation game that allows us to sit at the helm of a selected locomotive and guide it through European and American routes. In Train Sim World 2020, the authors introduce a number of new features, including Journey Mode, extended tutorials and previously unavailable lines.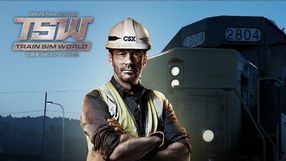 Train Sim World
Simulation 16 March 2017
An advanced railway simulator developed by Dovetail Games, a developer known from the popular Train Simulator series. Train Sim World: CSX Heavy Haul follows in the same vein, yet is treated as a separate project based on new technology. Unfortunately, this means that the title is not compatible with numerous add-ons released for the Train Simulator series. As always, the gameplay involves controlling various railway engines and traversing numerous railways found all around the world. Moreover, the players can create their own tracks thanks to the included editor. The game contains both single and multiplayer modes. Interestingly enough, the game is powered by Unreal Engine 4, an engine used in titles such as Final Fantasy VII Remake, Days Gone, or Gears of War 4. As a result, the new incarnation of the railway series received multiple fixes, as well as improved graphics and physics.