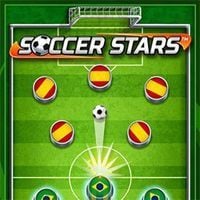 Soccer Stars
Simple football arcade game, drawing inspiration from the popular cymbergaj and his variation of playing the cap. The game consists of two teams of five players each, and its aim is to place the ball in the opponent's goal.
Arcade | play for free | Football | Facebook | multiplayer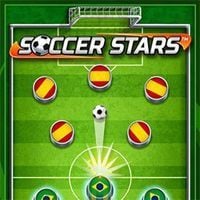 Game mode: multiplayer
Multiplayer mode: Internet, players: 1 - 2
Soccer Stars is an arcade multiplayer football game developed by Miniclip. The team is known for countless mobile and browser games, most of which are also available directly on the company's website.
Mechanics
In terms of mechanics, Soccer Stars draws inspiration from the classic coin soccer, or its somewhat developed version. The game focuses on the rivalry of two teams, five players each, and their aim is to place the ball in the opponent's goal by hitting it with the right force and at the right angle. Despite the very simple rules, success in the game requires a lot of practice and the ability to accurately assess both factors or perform various tricks, just like in, for example, billiard.
The games take place in several virtual stadiums in various countries of the world, and each of them is characterized not only by a different appearance but also the amount of entry fee (which translates into the prize for winning) and victory conditions. The goal may, therefore, be to score one to three goals or to score more points within a certain time frame. Every win - in addition to the virtual currency - also results in a sufficient number of fans, enabling us to advance to higher player levels. As the game progresses, for virtual or real money we can buy original caps patterns or unique formations in the internal game store.
Play modes
Soccer Stars focuses exclusively on player-to-player battles, and by connecting to our Google+ or Facebook account, we can compete not only with randomly selected opponents, but also with our friends. In addition to standard one-on-one matches, Soccer Stars enables us to take part in more complex tournaments and championships, as well as other special events.
Technical aspects
Soccer Stars is characterized by extremely simple, but aesthetically pleasing visuals, adequate to the casual character of the game.
Similar games:
Age Rating
age requirements: everyone
System requirements
Additional information (AND):
Internet connection is required.
Additional information (iOS):
Internet connection is required.