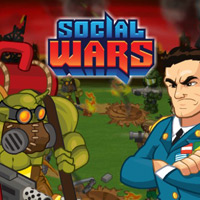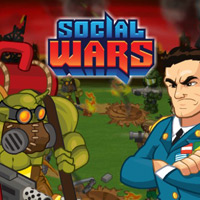 Social Wars
WWW
A social game combining elements of real time strategy and a simulator of city development. We play the role of commander and try to train the strongest possible army to defeat the cosmic Orcs storming our planet.
Strategy | Economic | RTS | Facebook
Social Wars

Release Date WWW

08July2012
developer: Social Point publisher: Social Point Official website

game language: English
Planet Earth is being attacked by atrocious outer space invaders and only you can be the leader of the human race at this very crucial moment!
Build your own military city with bazooka and tanks academies, jeep garages and helicopters hangars, and train your soldiers to have the most powerful army in the galaxy!
You can also protect your campground from the monsters attack with turrets, fortress, bunkers and rockets and make the best units join your ranks, including robots!
But don't forget the men in the streets! They'll run your wood, steel, oil and gold factories, silos and corn fields that will give you resources to get the hardest and most sophisticated military weapons!
Discover the glorious battles and adventurous missions that are waiting for you and fight to save the planet!
Game mode: multiplayer Multiplayer mode: Internet
Age restrictions Social Wars: Good for all ages.