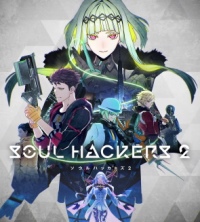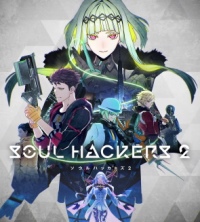 Soul Hackers 2
Soul Hackers 2 is a jRPG with a turn-based combat system, part of the Shin Megami Tensei franchise. It is a sequel to Devil Summoner: Soul Hackers originally released in 1997 for the Sega Saturn console.
RPG | TPP | cyberpunk | turn-based | jRPG | urban fantasy
Soul Hackers 2 is a Japanese RPG set in cyberpunk style with horror elements. Atlus studio developed the project. This is a sequel to Devil Summoner: Soul Hacker and both titles are part of a Shin Megami Tensei franchise.
Plot
The action of the game takes place in the near future. A being known as Aion, who protects the world, detects an impending catastrophe and sends his subordinates, cybernetic agents Ringo and Figue, to protect two people who can prevent this disaster. Upon arriving on Earth, however, it turns out that the targets of their protection have already been murdered. Therefore, through the use of Aion's powers, both are resurrected.
The people saved in this way are a man known as Arrow and a woman Milady. Both are able to summon and control demons and together with Aion's cybernetic agents they will try to discover what is threatening Earth and find a way to prevent the catastrophe.
Game mechanics
Soul Hackers 2 is a quite a classic jRPG. We explore the world, complete quests, develop heroes and fight with enemies using a turn-based battle system, where achieving success requires choosing the type of attacks to specific enemies and targeting their weak points.
The key role in the gameplay plays the system of summoning demons, which we use in fights. Players can make contracts with these creatures, develop their abilities and combine two individuals to create a new, more powerful form.
Regular mortal cities are only explored by humans and Aion's cybernetic agents, but each location also has a hidden metropolis where demons can materialize not only during battles. These locations offer numerous useful facilities for gathering information and developing demons.
Game modes
The game features a single player mode only.
Technical aspects
Soul Hackers 2 has a fully 3D graphics, stylized on Japanese cartoons.
Game mode: single player
Age restrictions Soul Hackers 2: 16+
Soul Hackers 2 System requirements
Minimum:
(30 fps / 1080p) Intel Core i5-3470 3.2 GHz / AMD Ryzen 3 1200 3.1 GHz
8 GB RAM
graphic card 1 GB GeForce GTS 450 / Radeon HD 5770 or better
22 GB HDD
Windows 10
Recommended:
(60 fps / 1080p) Intel Core i5-8600 3.1 GHz / AMD Ryzen 5 3600 3.6 GHz
8 GB RAM
graphic card 2 GB GeForce GTX 760 / Radeon HD 7870 or better
30 GB HDD
Windows 10