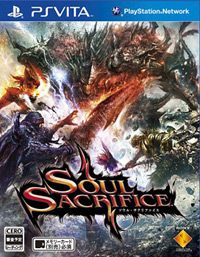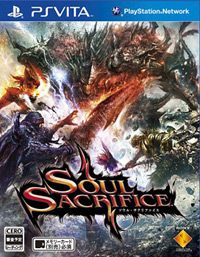 Soul Sacrifice
PSV
A brutal dark fantasy third-person action game developed under the supervision of an industry legend and the co-creator of Mega Man, Keiji Inafune. In Soul Sacrifice, we assume the role of a young man raised by a cruel warlock.
Action | TPP | fantasy | co-op | PlayStation exclusive titles
Soul Sacrifice

Release Date PSV

07March2013
developer: Marvelous Entertainment publisher: Sony Interactive Entertainment Official website

game language: English
Soul Sacrifice for PSV is a brutal action game set in a grim dark fantasy world. It was developed by Marvelous Entertainment. The project lead was Keiji Inafune, a true industry legend and the co-creator of Mega Man.
Story
The players assume the role of a youngster raised by a cruel warlock. The action starts when the protagonist is to be sacrificed. He is saved from the certain death by the appearance of a demonic book in which the story of his foster father is written. We are cast into its pages and have to fight all the battles that the protagonistís foster father has fought. Most of the time, our enemies are humans who had used magic too frequently and, as a result, were transformed into vile monsters. We can share their fate, too.
Gameplay
Soul Sacrifice for PSV is an action game so the gameplay boils down mainly to killing subsequent hordes of enemies. The developers prepared an extensive combat system that allows to perform various attacks and making use of a rich weapons arsenal. It is even possible to use elements of the environment, for example, a torn out tree as a club.
Undoubtedly, the most original element of the game is its spells system. Casting them requires the character to sacrifice a body part. For instance, a technique called the Excalibur involves tearing out oneís own spine to use it as a sword. Performing a Gelipnir, we rip flesh off of our fingers and attack with bones. Should we want to use Gorgon, it is necessary to gouge out the protagonistís eyeballs to attack with an energy beam. After performing a Gungnir, the bones and nerves are torn out of the playerís character body and they charge his enemies. All of these magic spells are incredibly powerful but cannot be abused for it can lead to an irreversible loss of humanity.
Game modes
Apart from the single player mode, the game also offers a multiplayer mode for up to four players via the Internet or the LAN. What is interesting, we can make human sacrifice of our party members. When one of the companions dies, the participants vote on whether to resurrect him or to sacrifice him in order to get additional powers and items.
Game mode: single / multiplayer Multiplayer mode: Internet Player counter: 1-4
User score: 8,9 / 10 based on 231 votes.
Pre-release expectations: 9.7 / 10 based on 14 votes.
Age restrictions Soul Sacrifice: 18+