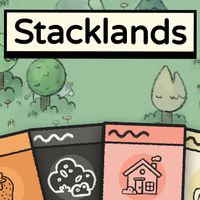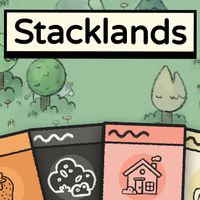 Stacklands
PC
Stacklands is a survival and card game in which we expand our own village. All actions - from collecting resources, through building and producing items, to fighting monsters - are performed by playing cards.
Strategy | roguelike | 2D | card games | survival | indie games | city builder
Stacklands

Release Date PC

08April2022
developer: Sokpop Collective publisher: Sokpop Collective Official website

game language: English
Stacklands is a variation on the theme of life sims and survival games, with mechanics typical for card games. This title is another project of an indie team Sokpop Collective.
Sokpop and game development
The four-person studio from Utrecht, Netherlands, has an unusual approach to game development. Since 2021, a new production from the team has been released every month. Most of these projects are not very complex and their development ends with the release. However, the success of Stacklands has encouraged Sokpop to expand the game with updates adding up to 100 cards each. At the same time, the developers have announced the possibility of raising the price once these content packs are released.
Game mechanics
Stacklands is based on the same scheme as many other survival and farm games. Our task is to build a prosperous village, which requires searching for resources, putting up buildings and producing items. The survival aspect manifests itself on one hand in the need to take care of food supplies for residents, on the other - in the presence of hostile creatures such as bears and goblins. With time we also come across more strange finds.
However, here we operate not as a single character or even a group of villagers. The whole gameplay is based on playing cards in order to perform actions typical for the genre. For example, we can move a villager card to a berry bush to gradually acquire those as separate cards. All other resources are represented in the same way, as well as weapons, monsters, buildings etc. The same applies to the ideas, or manufacturing schemes, which give us access to new items and constructions.
Fights are turn-based, although we don't have any control over the battle itself. They are fought automatically and we can only influence their outcome by equipping the villagers with weapon cards or ordering them to attack in a group. In both cases it will allow our people to use special combat abilities.
Stacklands has also borrowed the mechanics of packs with cards from collectible card games like Hearthstone. We can sell the excess cards to purchase the chosen pack of the supplementary set. Each pack focuses on a chosen area, be it farming or constructing buildings.
Overall, Stacklands focuses more on quiet, relaxing gameplay, and the entire game can be completed in a few hours.
Game modes
Stacklands offers single player gameplay only. One of the first updates two alternative game modes: peaceful (which provides easier gameplay) and short moon (for those looking for more of a challenge).
Technical aspects
As the entire game is card-based, in Stacklands we will not find detailed locations and character models. On the contrary, the 2D graphics is minimalistic even compared to many other card games. The illustrations on the cards and the backgrounds of the boards are drawn with an almost childlike simplicity and you won't find any spectacular special effects here.
Last updated on 19 April 2022
Game mode: single player
Age restrictions Stacklands: Good for all ages.
Stacklands System requirements
Minimum:
Dual Core 2.0 GHz
2 GB RAM
graphic card 512 MB GeForce 8800 or better
200 MB HDD
Windows 7 64-bit