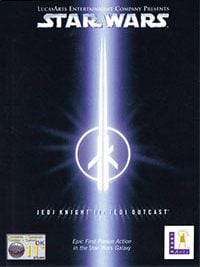 Star Wars Jedi Knight II: Jedi Outcast
Star Wars Jedi Knight II: Jedi Outcast is the third part of Raven Software's series of first person shootouts set in the world of Star Wars. The player once again takes on the role of Kyle Qatar.
Action | FPP | TPP | science fiction | Star Wars | FPS | videos | TPS | shooters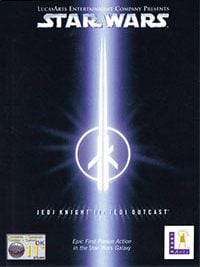 Game mode: single / multiplayer
Multiplayer mode: local network / Internet
Star Wars Jedi Outcast: Jedi Knight II is the third chapter in the adventures of the almost-Jedi freelancer Kyle Katarn. Several years have passed since Kyle avenged the death of his father and saved the Valley of the Jedi from the invasion of Dark Jedi led by Jerec. Terrified by the power of the dark side, as he nearly fell into its clutches, Kyle entrust his Lightsaber to Luke Skywalker, vowing to never use it again. However, once the future of the Galaxy is threatened by a new danger, he must regain his connection to the Force and stand firm against the evil one more time.
The aforementioned danger is a powerful Dark Jedi who desires to create a device that could infuse anyone with Jedi powers. In this FPS, the player assumes the role of Kyle Katarn and leads him through famous places featured in the movies as well as some completely new locations. As Katarn, you have several unique weapons and incredible Jedi powers at your disposal. In comparison to Star Wars Jedi Knight: Dark Forces II, Lightsaber combat was significantly enhanced and features new offensive and defensive moves.
Various Jedi powers, such as Jump, Push, Jedi Mind Trick, and others.

Engage in direct combat or stealth operations, depending on the situation.

New locations known from the

Star Wars

movies: Sky City, Jedi Academy on Yavin 4, Nar Shadda, smuggler base on the moon, as well as other, previously unknown places.

Two multiplayer modes: Jedi training and team match.

Advanced

Quake III

engine.
PEGI Rating
System requirements
Recommended:
Pentium II 400MHz
128MB RAM
16 MB graphic card