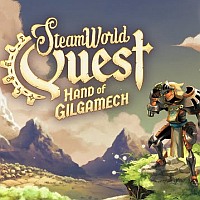 SteamWorld Quest: Hand of Gilgamech
RPG game, in which you will find a turn-based combat system based on cards collected during exploration and clashes with enemies. The production also has a beautiful, hand-drawn 2D graphics.
RPG | fantasy | steampunk | 2D | card games | indie games | side-scroll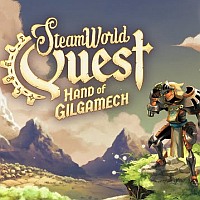 SteamWorld Quest: Hand of Gilgamech is a jRPG game with card elements and turn-based combat system. The production is a spin-off of a well-known series of arcade and strategic games SteamWorld (including such titles as SteamWorld Dig, SteamWorld Dig 2 or SteamWorld Heist) developed by Image & Form Games studio since 2010. These developers are also responsible for creating the game discussed here. This time the publisher is Thunderful Publishing.
Plot
The funny world in which the SteamWorld Quest: Hand of Gilgamech action takes place combines elements of classical fantasy and so called steampunk (this term is used to describe a characteristic convention in which technology based on various types of steam machines plays an important role - steampunk worlds usually draw full bits from the Victorian era, i.e. the second half of the 19th century). Unlike other titles in the series, we don't find here the motifs characteristic for westerns.
Mechanics
In SteamWorld Quest: Hand of Gilgamech we observe the action from a side-scroll perspective. The mechanics of the game refers to games from the Mega Man Battle Network series or the cult Baten Kaitos, known from the GameCube console. This is an RPG where we explore the colorful world, talk to the characters we meet, acquire new items and fight - the latter aspect is by far the most important.
The key element of the Image & Form Games title is the characteristic combat system. It is based on the cards that we collect during our travels (there are more than a hundred of them in total). On each card we will find some ability, attack or item and it is up to us whether it will be in our deck - and we can't change the set during the fight. It is also worth noting that some of the cards can only be played if we have previously used a few others (they serve as a kind of finishing moves).
Importantly, the player simultaneously controls the whole team, consisting of three heroes: Galleo, Armilly and Copernica. Each of them has a different specialization and a different set of available cards. Heroes also receive experience points, thanks to which they can advance to the next level.
Game modes
In SteamWorld Quest: Hand of Gilgamech we can only play alone. Despite the fact that the game uses elements characteristic for cards, the creators have not prepared any multiplayer modes - the basis of the game is a feature campaign for a single player.
Technical aspects
SteamWorld Quest: Hand of Gilgamech has a very attractive two-dimensional graphic design based entirely on hand-made illustrations. Both charts and models are very colorful, full of details and nicely animated. The artistic style of the discussed production brings to mind associations with, among others, animated series and illustrated books for children.
Similar games:
Age Rating
age requirements: everyone
System requirements
PC / Windows
Recommended: Dual Core 2.0 GHz, 4 GB RAM, graphic card 2 GB GeForce GTX 660 / Radeon HD 7870 or better, 750 MB HDD, Windows 7/8/10
Minimum: Dual Core 2.0 GHz, 1 GB RAM, graphic card 512 MB GeForce 8800 or better, 750 MB HDD, Windows 7