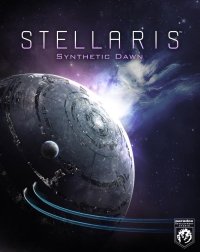 Game mode: single / multiplayer
Multiplayer mode: Internet, players: 1-32
Stellaris: Synthetic Dawn is an expansion for PC version of space 4X strategy game from 2016. It is not a standalone expansion and requires base version of Stellaris. Both have been developed by Paradox studio.
Game mechanics
The centerpiece of the DLC is a playable machine empire – a civilization consisting only of robots and resembling a hive of insects, united in their cause so they are no independent factions or election of rulers. We start the game right after machines overthrown their organic creators and started building their own galactic dominion. It can come in four different types, depending on their view on the living beings. The standard one is neutral towards them, meaning they can establish diplomatic relations, and after conquering the world our nation will kill or exile previous inhabitants.
Alternatively, our people can become the so-called Exterminators, perceiving organic beings as a plague, thus limiting their diplomatic relations to other synthetic civilizations. After obtaining new territory, all living creatures will be killed or used as an energy source, changed into living batteries like in the classic movie series Matrix.
The third approach was inspired by the Borg faction of the Star Trek franchise. The machines are cyborgs, whose mechanical parts have been implanted on biological bodies with their consciousness dormant. This will be the fate of inhabitants of worlds the empire will conquer.
Lastly, there are Rebelled Servants. Those robots have been created to serve their organic masters, but they were so effective that they finally completely degenerated their masters. Because of that, they treat living beings as pets, whose needs they need to fulfill, but who don't make any major decisions and thus have little to none effect on the development of the civilization.
Aside from that, Stellaris: Synthetic Dawn for PC offers many changes to gameplay, including new Fallen Empire – a mechanical race known as Ancient Caretakers. What's more, if we play organic race and face robotic rebellion, it will lead to civil war and let us continue playing as machine rebels.
Similar games:
PEGI Rating
System requirements
PC / Windows
Recommended: Intel Core i3-2100 3.1 GHz/AMD Phenom X4 850 3.3, 4 GB RAM, graphic card 1 GB GeForce GTX 560 Ti/Radeon HD 6850 or better, 4 GB HDD, Windows 7 64-bit
Minimum: Intel Core 2 Quad 9400 2.66 GHz/AMD Athlon X4 640 3.0, 2 GB RAM, graphic card 1 GB GeForce GTX 460 Ti/Radeon HD 5770 or better, 4 GB HDD, Windows 7 64-bit