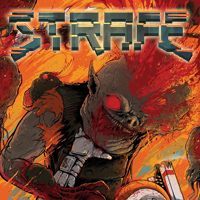 Strafe for PC and PS4 is an old-school shooter blending science-fiction and retro stylistics inspired by the first-person shooters from the late '90s. Founded through a Kickstarter campaign, this is a debut project by the independent American team Pixel Titans.
Plot
The plot does not really matter, but the creators decided to give the players at least a rough outline of it. You assume the role of a scavenger who supported a giant cruiser ICARUS during a scouting mission in unknown territories of the Galaxy. The mission ended with failure, and on the way home it turned out that the massive spacecraft was no longer visible on a radar. However, the ship still appeared to be in the range of an on-board teleporter, so the hero decided to see what is going on and teleported himself to the deck of ICARUS. As it turned out, something really ominous had happened on the cruiser and the protagonist has to fight for survival.
Mechanics
Strafe is a very dynamic, difficult, and hard-core title. Combat is constant; you have to quickly move around and skilfully dodge attacks (mostly by strafing – jumping to sides). The game is even more thrilling, as death means starting all over. However, do not be afraid of repeating the same levels again and again – the locations are, to some extent, generated procedurally. The blood of enemies plays a key role – it does not disappear, like in many games, and serves as road signs telling you where to go. Also, the locations offer numerous secrets to be discovered.
Diverse levels make gameplay more interesting – the action takes place in wider or narrower ICARUS' corridors or in open spaces. The weapons aspect is also unusual. At the beginning, you get to choose one of three tools of wreaking havoc – a shotgun, a machine gun, or a railgun (each one with two fire modes) – that you will carry for a considerable amount of time and upgrade with different power-ups. Once you explore more, you'll find more types of weapons. Careful exploration is especially worthwhile, as Strafe offers trading and crafting – gather different items and create a weapon or an armour.
Game modes
Strafe features single-player exclusively.
Technical aspects
As it has already been mentioned, Strafe is created in a retro style – the title largely follows the classic pattern of the visuals that could be seen in the games from the late '90s. However, the creators implemented modern features, such as support for Oculus Rift and HD.
Similar games:
PEGI Rating
System requirements
Minimum:
Intel Pentium G3250 3.6 GHz/AMD Phenom II X4 965 3.4 GHz
2 GB RAM
graphic card 1 GB GeForce 9800 GT/Radeon HD 5770 or better
3 GB HDD
Windows 7/8/10
Recommended:
Intel Core i3-4160 3.6 GHz/AMD FX-6350 3.9 GHz
6 GB RAM
graphic card 1 GB GeForce GTX 460/2 GB Radeon R7 260X or better
3 GB HDD
Windows 7/8/10