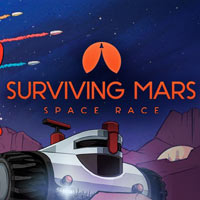 Surviving Mars: Space Race
Surviving Mars: Space Race is an expansion to the strategy game Surviving Mars. With the expansion, other colonies appear on the Red Planet, controlled by artificial intelligence, with which we have to compete for raw materials and money of the sponsors.
This is Surviving Mars expansion pack.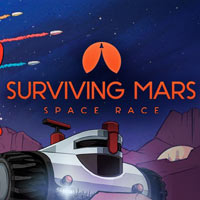 Surviving Mars: Space Race is an expansion the science fiction strategy Surviving Mars, released in 2018. Both the add-on and the basic version of the game have been developed by the Bulgarian studio Haemimont Games, known for Tzar: The Burden of the Crown, Celtic Kings: Rage of War, Victor Vran, Omerta: City of Gangsters or the Tropico.
Mechanics
Space Race is a classic add-on. So it doesn't make any revolutionary changes and instead focuses on extending Surviving Mars content with new elements and options. Thanks to DLC players are forced to fight the competition during the conquest of Mars. On the Red Planet other colonies appear, controlled by artificial intelligence.
The presence of rivals means that we have to fight for limited resources. In addition, it causes us to stand up to race for who will reach the first milestones in the settlement of the new world. The pioneers are well rewarded by the sponsors - colonies lagging behind cannot count on any support. The competition is fierce and there is even the option of abducting people from other colonies. On the other hand, there was also the possibility of trade and calling for and bringing aid to those in need. The game is also enriched by the introduction of random events and anomalies ensuring fresh challenges.
In addition, Surviving Mars: Space Race enriches the game with two new sponsors, Japan and Brazil. This provides us with additional sources of funding for colonization, but both countries also have unique requirements that need to be met during the game. These sponsors also received their own vehicles and buildings.
Game modes
Like Surviving Mars, the Space Race add-on only allows you to have fun in single player mode.
Technical aspects
Space Race is a non-self-reliant addition, so to play it requires a full version Surviving Mars. The extension does not introduce any improvements to the graphic design.
Similar games:
PEGI Rating
System requirements
PC / Windows
Recommended: Intel Core i5-5287U 2.9 GHz, 8 GB RAM, graphic card 4 GB GeForce GTX 750 Ti or better, 6 GB HDD, Windows 7/8/10 64-bit
Minimum: Intel Core i3-4150T 3.0 GHz, 4 GB RAM, graphic card 1 GB GeForce GT 620 / Radeon HD 6450 or better, 6 GB HDD, Windows 7 64-bit