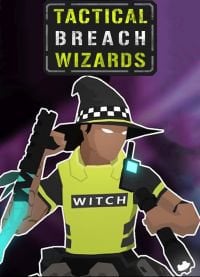 Tactical Breach Wizards
PC
Tactical Breach Wizards is a turn-based strategy game from independent Suspicious Developments studio, in which we will move to a world where modern technology mixes with magic. Our task is to take over the leadership of the outcast group and fight against the regime.
Strategy | turn-based | tactical | RPG elements | humorous | indie games | urban fantasy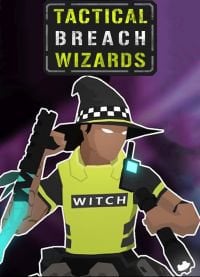 game language: English
game release date for PC:
2021
Tactical Breach Wizards is a turn-based strategy game from the independent Suspicious Developments studio, which has produced titles such as Heat Signature and Gunpoint. The player's task is to manage an outcast team in their mission to fight the theocratic state of The Chapel and the ruthless group of mercenaries working for them. The game strongly emphasizes the plot themes and telling the story of the members of our department. The core of the game is a turn-based strategy game, in which the most important role is to place our characters and use their skills properly, like in Into the Breach.
Plot
Tactical Breach Wizards takes us to a land where magic and modern technology exist side by side. The player takes command of a group of 6 magical mercenaries who fight the theocratic state of The Chapel. Each of our subordinates is guided by different motives, which we get to know as the plot develops.
Mechanics
Tactical Breach Wizards is a turn-based strategy game with mechanics reminiscent of those known from Into the Breach. Our task is to manage the group of mercenaries using their surroundings and special skills.
At Tactical Breach Wizards our players differ in their style of play and their preferences suggest tactical decisions. For example, Riot Priest, a powerful tank, gains mana points every time it is brutal (throws an enemy out of a window, takes damage, etc.). The opposite is Witch Cop, a former police officer whose mana regenerates only when she uses exactly the amount of force she needs.
In addition to making proper use of the character's preferences, it is extremely important to use their special skills and environment. Properly set up, Riot Priest is able to send his opponent in a charge out of the window, permanently excluding him from the game, while Witch Cop can electrocute several opponents at once. The game encourages us to experiment by reversing the last moves, so that we can freely try different tactics without the need to load.
The Tactical Breach Wizards game is divided into missions, where our task is to assault a particular building. Each building consists of several consecutive rooms at the end of which there is a fight with the boss. Each room has an extra goal for which we get style points; the sooner we finish it, the more we get. These points can be spent on changing the appearance of our characters, which we will implement in the database.
Between the missions we will go to our hiding place, where we can listen to the conversations of our team members, develop their skills, change their equipment and look at their costumes.
Game modes
Tactical Breach Wizards is a singleplayer game.
System requirements
PC / Windows
Minimum: Intel Core 2 Duo 2.2 Ghz / AMD Phenom X4 9950 2.6 GHz, 8 GB RAM, graphic card 1 GB GeForce GTX 460 / Radeon HD 5770 or better, 3 GB HDD, Windows 7