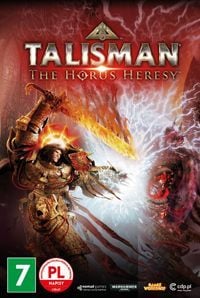 Game mode: single / multiplayer
Multiplayer mode: Internet / hotseat, players: 1 - 4
Talisman: The Horus Heresy for PC, iOS and AND is a digital board game combining the iconic Warhammer universe with the rules of the popular Talisman board game. It was developed by Nomad Games, the creators of digital adaptations of the original game (Talisman: Digital Edition and Talisman: Prologue) as well as the 2014ís shooter Warhammer 40,000: Kill Team.
Story
The story of Talisman: The Horus Heresy is based on Horus Heresy, a novel trilogy started in 20006 by Dan Abnett, and takes place in the 31st millennium, ten thousand years before the events of Warhammer 40,000. Under the gracious rule of the immortal Emperor, the human empire spans across almost the entire galaxy, while humanity flourishes thanks to the numerous discovers and conquests. Unexpectedly, the Emperor withdraws from the frontlines and entrusts the command to his favorite son, Horus, after promoting him to the rank of Warmaster. However, the young idealist cannot bear the great burden of the Emperorís ambitious plans. This situation causes a galactic civil war which threatens the future of the mankind.
Gameplay
As far as mechanics are concerned, Talisman: Horus Heresy for PC, iOS and AND employs the solutions known from classic installments of the Talisman series. The players assume the role of one of 8 playable characters divided into two groups: the loyalists or the traitors and take command of one of 18 Space Marines divisions. The gameplay is turn-based and the in-game situation is significantly influenced by dice rolls and drawing event cards. The latter can both grant us various useful items or have use confront an enemy. The game was adjusted to the new, completely different, science-fiction setting and, in contrast with the original Talisman, is much greater in scale, because the board spans across the entire galaxy.
Game modes
Just like every board game, Talisman: The Horus Heresy is meant for multiplayer play. The title can be played either by two or four players who compete directly or cooperate within two-member teams. The developers also made sure that the production is playable in single player mode where the artificial intelligence controls the remaining participants.
Age Rating
age requirements: everyone
System requirements
PC / Windows
Minimum: Dual Core 2.0 GHz, 2 GB RAM, graphic card 512 MB GeForce 8800 GT or better, 1 GB HDD, Windows 7