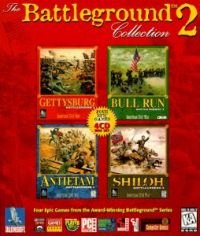 The Battleground Collection 2
PC
A compilation of four strategic productions set in the realities of the American Civil War, which took place in 1861-1865. The available scenarios reflect the most important battles of that period, including the Battles of Gettysburg, Shiloh and the Antietam River.
Strategy | turn-based | American civil war | package | war strategy | 19th century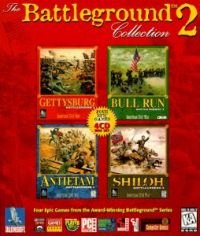 Game mode: single / multiplayer
Multiplayer mode: Internet / E-mail / hotseat, players: 1 - 2

game language: English
game release date for PC:
01January1999
Battleground Collection 2 is a package of four excellent Talonsoft strategy games, belonging to the popular Battleground series created by John Tiller. Unlike the first part, which focuses on the Napoleonic wars at the turn of the 17th and 18th centuries, the second part is entirely devoted to the American Civil War. Thanks to the contents of the set, we can take part in the most important battles of this period and influence the fate of the Confederates' conflict with the Union.
Battleground 2: Gettysburg is an attempt to recreate the most important battle of the Civil War, which took place in July 1863 and claimed more than 50,000 dead, missing and wounded on both sides. It became a peculiar symbol of war and its turning point, from which the Confederacy began to lean towards collapse.
In Battleground 4: Shiloh we can take part in a clash that took place in April 1862 near Shiloh, Tennessee. The battle ended with the defeat of the Confederates, who, despite the losses, continued the attack on the troops of Ulysses Grant, which were supported by the Ohio Army after the command of Don Carlos Buell.
Battleground 5: Antietam plays the events of September 1862. A total of 23,000 soldiers died in the battle of the Antietam River on one day, and that was the bloodiest day in the history of the United States. The defeat of the Confederates led by General Robert E. Lee became the breakthrough point of the war, from which the advantage of the South began to systematically decrease.
Battleground 7: Bull Run focuses on two less known skirmishes that took place in July 1861 and August 1862 near Manassas, Virginia. Both battles ended with the victory of the Confederates, gaining the popular name of the so-called "bull rally".
Please let us know if you have any comments or suggestions regarding this description
Age Rating
age requirements: everyone
System requirements
PC / Windows
Recommended: 486DX2 66 MHz, 8 MB RAM, 5 MB HDD, Windows 3.x/95