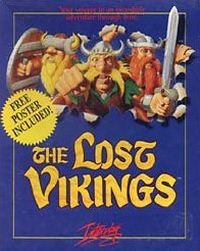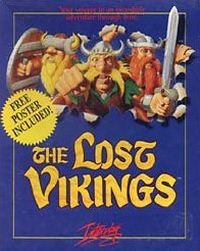 The Lost Vikings
An arcade and logic game. It tells the adventure of three Vikings: Eric Chyzy, Baleog Srogi, and Olaf, who have to defeat Tomator, the ruler of the planet Crouton and return home.
Arcade | logical elements | 2D | the Vikings
The three Vikings: Erik the Swift, Baleog the Fierce, and Olaf the Stout - decided to go hunting. The expedition would probably have been a complete success if not for a certain accident. The evil ruler of the planet Crouton, one Tomator, decided to kidnap the heroes and put them in his museum of curiosities. As we can easily guess, it is the player who will take part in an adventure full of dangers, in which the main task will be to defeat the oversized monster and return home.
The game was developed by a group, with somewhat mysterious name Silicon & Synapse. Probably many of us will be surprised to know that these are the same people who, as Blizzard Entertainment, later became extremely successful in the field of computer entertainment. The Lost Vikings is an arcade game with a strongly accented adventure theme. In order to complete each of the 36 stages prepared by the devs, it is necessary to reach the exit with all heroes, which of course will not be as easy as it might seem at first. The Vikings have unique abilities and not every way to the desired freedom will be available to them. Eric can jump and break the wall with his head, the Baleog is a typical warrior - he can use a bow and defeat enemies with his sword, while Olaf, whose main weapon is a shield, will block the enemy's attacks with it. The key to success is an effective combination of Viking skills and clever use of items scattered around the stages.
Summing up, The Lost Vikings is a difficult and demanding game. Initial stages serve only to familiarize us with the skills of the Vikings, then we are thrown into the deep end, where it is necessary to make use of these experiences successfully. A large number of enemies, cleverly buried objects and intricate stage design do not make the task easier. The game is designed for lovers of platformers, but rather those who are not bothered by significant intellectual effort.
Game mode: single player
User score: 7,7 / 10 based on 374 votes.
Age restrictions The Lost Vikings: Good for all ages.
The Lost Vikings System requirements
Recommended:
PC 286 12MHz
1MB RAM
VGA