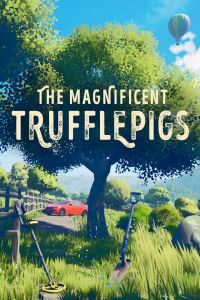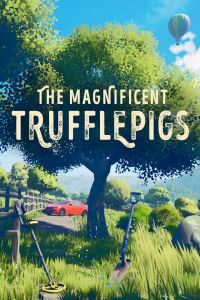 The Magnificent Trufflepigs
The Magnificent Trufflepigs is a narrative adventure game in which we search a farm with a metal detector and develop a relationship with an old friend of our hero. It is the debut project of independent studio Thunkd.
Adventure | FPP | indie games
The Magnificent Trufflepigs is a first-person adventure game focusing on the story aspect. It is the debut game of Thunkd studio. The main designer was Andrew Crawshaw, the developer who held the same position during the development of Everybody's Gone to the Rapture.
Plot
In the game we play as a man named Adam, who after years of absence returns to a small English village Stanning, where he grew up. There he meets a woman named Beth. She is about to become the CEO of the biggest company in the area, but before that happens, she wants to close a case from his childhood. When she was a girl, she used a metal detector to find an earring on a local farm. It provided her with short-term fame and a decent income. However, she never managed to find a second earring to match.
Beth decides to try one last time to find the missing treasure. She has to hurry, because the farm will be demolished by the energy company in a week, and solar panels will be built in its place. Seven days is too short a time to search the whole area alone, so the woman asks Adam for help, who agrees to the proposal.
Mechanics
The Magnificent Trufflepigs is an adventure game in which we observe the events from a first-person perspective. During the game we explore the farm and use a metal detector to look for hidden treasures. The ultimate goal is to find an earring, but on the way we discover many other items. Most of them are underground, so we also spend a lot of time digging holes.
In fact, all this treasure hunting fun is just a pretext for telling an interesting story. Throughout the work, Adam is in constant contact with Beth via walkie-talkie and text messages. In this way, we slowly discover the history of the relationship between these characters and can shape its next stage. The plot is largely non-linear and how we steer the conversations will determine the development of the story.
The game features eye-catching 3D graphics, done in a slightly cartoonish style. Its main advantage are idyllic landscapes of the British countryside.
Game modes
The Magnificent Trufflepigs offers only single player mode.
Dubbing
Dialogues are a key element of the game, so the developers didn't take any risks and hired professionals for both roles. Adam was voiced by Arthur Darvil, known from such series as Doctor Who, DC's Legends of Tomorrow or Broadchurch. Beth, on the other hand, was played by Luci Fish ( Safe House, among others).
Game mode: single player
Expectations: / 10 based on 1 votes.
Age restrictions The Magnificent Trufflepigs: 12+
The Magnificent Trufflepigs System requirements
Minimum:
Intel Core i5-3570 3.4 GHz / AMD Ryzen 3 2300X 3.5 GHz
8 GB RAM
graphic card 4 GB GeForce GTX 970 / 8 GB Radeon RX 570 or better
5 GB HDD
Windows 10 64-bit
Recommended:
Intel Core i5-8500 3.0 GHz / AMD Ryzen 5 3600 3.6 GHz
16 GB RAM
graphic card 6 GB GeForce GTX 1660 Ti / 8 GB Radeon RX 5600 XT or better
5 GB HDD
Windows 10 64-bit