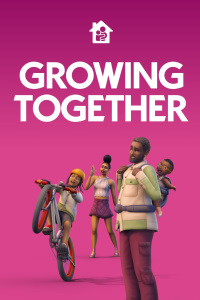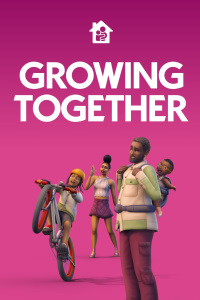 The Sims 4: Growing Together
Growing Together is an expansion to The Sims 4, requiring the base game to function.. It focuses on family activities, introduces new life stages (starting from infancy) and the city of San Sequoia.
This is The Sims 4 expansion pack.
Simulation | Economic | sandbox | Isometric view | life Simulator
The Sims 4: Growing Together is an expansion to the popular life simulator series by EA Maxis. It mostly focuses on family and neighborhood relations, puberty and forming personalities, it also introduces new items for home decoration (changing tables, educational mats, sleeping bags for children) or areas to visit (a coast cinema, a public baby pool).
The Sims 4: Together isn't a standalone expansion and requires the base version of The Sims 4 to work.
Mechanics
The expansion takes place in the picturesque town of San Sequoia - once a small fishing settlement, now a bustling metropolis. It's divided into three districts: Anchorpoint Wharf, Gilbert Gardens, and Hopewell Hills.
The Sims 4: Growing Together massively expands the family system, often putting blood ties to the test. Family members can partake in intergenerational activities - go fishing, walk on a pier or jog in a park. Grandparents can teach their grandchildren cycling or build treehouses together. Their help is especially useful when taking care of infants, who have received new interactions (like changing diapers and putting them to sleep), along with the possibility to express needs and emotions. The expansion allows the player to experience how their kids grow up by adding more stages to their lives. The Sims 4: Growing Together also introduces quirks, making each child unique. Your baby may dislike pacifiers, wake up early, be a picky eater, etc.
There are also changes made towards adult Sims, who can now face work troubles, midlife crises or family move-ins. These events can change their existing character traits. The expansion adds Sim preferences to the game as well, meaning your Sims will befriend people meeting their specific criteria much faster. Social compatibility can lead to deeper relationships, while its absence creates conflicts and reasons for arguments.
Last updated on 15 March 2023
Game mode: single player
PEGI rating The Sims 4: Growing Together
The Sims 4: Growing Together System requirements
Minimum:
Intel Core i3-3220 3.3 GHz / AMD Ryzen 3 1200 3.1 GHz
4 GB RAM
graphic card 128 MB GeForce 6600 / Radeon X1300 or better
26 GB HDD
Windows 10 64-bit
Recommended:
Intel Core i5 / AMD Ryzen 5
8 GB RAM
graphic card 1 GB GeForce GTX 650 / Radeon HD 7750 or better
8 GB RAM
51 GB HDD
Windows 10 64-bit