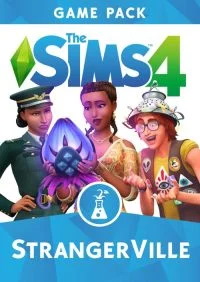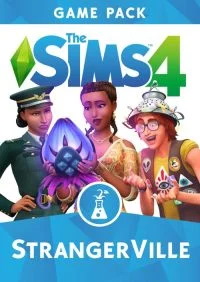 The Sims 4: StrangerVille
Another add-on to EA Maxis' popular life simulator, The Sims 4, which gives players the opportunity to visit StrangerVille's unusual city and get to know its strange inhabitants.
This is The Sims 4 expansion pack.
The Sims 4: StrangerVille is another expansion to the fourth installment of the popular life simulator. The expansion enables us to visit the titular, mysterious town of StrangerVille, referring to Strangetown, which appeared in the second installment of the series. Like all previous DLCs, this add-on was developed by EA Maxis and published by Electronic Arts.
Plot
The Sims 4: StrangerVille takes the players to the town of StrangerVille, full of strange inhabitants who seem to be members of a sect, or maybe something even more dangerous. Sims communicate with each other using very characteristic signs and often mention someone called "Mother".
The DLC is inspired by Jack Finney's book The Body Snatchers.
Mechanics
The Sims 4: StrangerVille gives us the opportunity to visit a new location in a desert area, full of strange, disturbing residents and dangerous plants. We can also undertake several new tasks and activities - the most important is the attempt to solve the mystery of StrangerVille, its hidden laboratory and unmarked cars that appear in different places.
During the game, we find a lot of new items - such as dictaphones with mysterious records, as well as scanners, which we can use to detect things that are not visible at first glance. In addition, sims can be trained in the army and dress up in a number of new outfits, such as a military uniform (in several types), a hazard suit, a government agent's suit or... clothes of a conspiracy theory enthusiast.
Game modes
The Sims 4: StrangerVille can only be played solo, just like the basic version of the game.
Technical aspects
In terms of visuals, The Sims 4: StrangerVille is no different from the basic version of the game. However, very unusual design of the new location and its inhabitants deserves attention - the sims move in uncomfortable positions and look as if they were under the influence of hypnosis or drugs. The whole thing is maintained in a rather disturbing style. It is worth noting that the expansion requires the basic version of The Sims 4 to work.
Game mode: single player
User score: 3,6 / 10 based on 67 votes.
PEGI rating The Sims 4: StrangerVille
The Sims 4: StrangerVille System requirements
Minimum:
Intel Core 2 Duo 1.8 GHz
4 GB RAM
graphic card 128 MB GeForce 6600 / Radeon X1300 or better
15 GB HDD
Windows 7/8/8.1/10 64-bit
Recommended:
Intel Core i5 2.33 GHz
4 GB RAM
graphic card 1 GB GeForce GTX 650 or better
18 GB HDD
Windows 7/8/8.1/10 64-bit