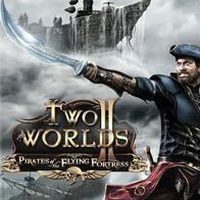 Two Worlds II: Pirates of The Flying Fortress
An expansion for the second installment of the action RPG series by Reality Pump, a Polish development studio. Two Worlds II: Pirates of The Flying Fortress offers a new campaign that takes place in a previously uncharted area.
This is Two Worlds II expansion pack.
RPG | TPP | fantasy | Pirates | action RPG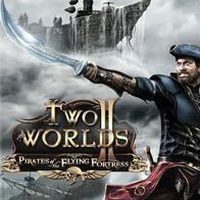 Game mode: single / multiplayer
Multiplayer mode: local network / Internet
Pirates of The Flying Fortress is an expansion for Two Worlds II, an RPG for PC, X360 and PS3. It offers an entirely new campaign and introduces quite a few enhancements to the gameplay mechanics. It was developed by Reality Pump, a Polish studio, yet again. The expansion requires the vanilla game in order to run.
Plot
The add-on takes us to entirely new locations and constitutes a completely separate story which is not directly connected to the events of Two Worlds II. The adventure starts when we meet Captain Ed Teal who was imprisoned on a cursed archipelago with his crew. In the background, there is also the theme of a legendary treasure that allegedly has the power to realize any desire of its owner. The actual action starts when we are hired by Captain Teal to find his bellowed Maren who currently stays on one of the nearby islands. The situation quickly complicates when Edís second-in-commands start to undermine his position among the crew, trying to start a rebellion, and we are thrown right into the middle of this conflict. The developers prepared a non-linear story that concludes with one of three possible endings.
Mechanics
The developers introduces more exotic atmosphere as well as new locations, weapons, and enemies. A myriad of fan-requested solutions were introduced, too. Thanks to the changes in the alchemy system, it is possible to brew potions of unlimited working duration. Furthermore, the protagonist finally learned to use ladders, which makes exploring the game world less frustrating. The archipelago we traverse is quite huge. We can travel both on foot and on horseback, while the distance between islands can be swum or sailed on a boat. The areas introduced in the expansion are inhabited by a great many new monsters. Among these, there is no shortage of powerful bosses such as Basilisk or Stone Golem, among others; to defeat them, one must do more than just masterfully wield a blade. To stand any chance against the biggest of the beasts, it is necessary to conduct a research on their weaknesses.
Apart from the single player campaign, Pirates of The Flying Fortress for PC, X360 and PS3 offers four new multiplayer maps for the Adventure mode.
Technical aspects
The expansion is powered by the vanilla gameís engine but the graphics were significantly improved. The charactersí facial details were increased and the quality of animation was enhanced. The dynamical weather effects, such as rains or storms, are also impressive.
Similar games:
PEGI Rating
System requirements
PC / Windows
Recommended: Pentium IV 2.6 GHz, 4 GB RAM, graphic card 256 MB (Geforce 8800 GTX or better), 8 GB HDD, Windows XP/Vista/7