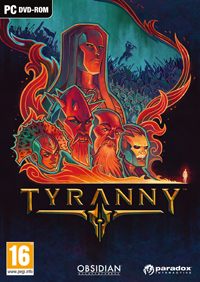 Tyranny
PC
A classic RPG game developed by the genre veterans, Obsidian Entertainment (developers of Pillars of Eternity and other popular titles). Tyranny takes place in a fantasy world called Tiers, in which the eternal struggle between the good and evil ended in victory of the latter.
RPG | fantasy | Isometric view | classic RPG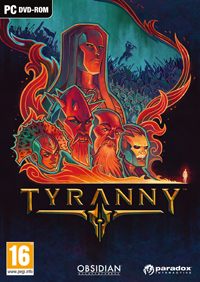 game language: English
game release date for PC:
10November2016
Tyranny is an RPG released on PC. The title was developed by Obsidian studio which specializes in the genre. The developers previously created such games as Pillars of Eternity, Neverwinter Nights 2 and Fallout: New Vegas.
Plot
The story takes place in a grim fantasy world named Tiers. Long time ago, a dark creature known as Kyros defeated the armies of mortals, killed the heroes and took control of the whole world as a tyrant. The victory of the evil was absolute and final – nothing that players do can change it. The main protagonist of the game is someone who took advantage of the situation. The player assumes the role of an officer in Kyros' army, serving as a judge and jury for common folk and making sure that the will of the tyrant remains unopposed.
It doesn't mean, however, that the player is forced to assume the role of a psychopath who enjoys murdering the innocents. Such development is possible, but one can ensure obedience and not be a brute at the same time. In addition, the protagonist's high standing on the social ladder makes even small decisions greatly impact the situation of the world. The player can shape the future of the game world and thousands of its inhabitants.
Mechanics
Tyranny released on PC starts with character creation. The player chooses not only the protagonist's traits, but also the course of the war which ended with the defeat of the forces of good. These decisions will have a great impact on the state of the realm during the campaign – for example how great was the damage to the world and how the balance of power between various organizations looks like.
During the game, the player mostly explores the world, completes quests and fights. Combat takes place in real time and features an active pause. During the adventure many companions will join the player. Relations with those companions will not only impact the story of the game, but combat as well. The combo mechanics allow the player to create combination of attacks engaging multiple characters. The better the relations with party members, the stronger they are in combat.
As any other good RPG, Tyranny offers a character progression system. It is similar to the one featured in The Elder Scrolls series – the skills are improved by using them in the game. Earned experience points are used to gain new levels, thus increasing the character's base statistics.

Game score 7.64 / 10 calculated out of 1065 players' votes.
Expectations before the premiere: 9.5 / 10 calculated out of 135 players' votes.
PEGI Rating
System requirements
Minimum:
Intel Core 2 Quad Q9505 2.80 GHz/AMD Athlon II X4 840 3.10 GHz
6 GB
graphic card 1 GB GeForce 450 GTX/ Radeon HD 5770 or better
15 GB HDD
Windows 7 64-bit
Recommended:
Intel Core i3-2100 2.80 GHz/AMD Athlon II X4 955 3.10 GHz
8 GB
graphic card 1 GB GeForce 560 GTX/ Radeon HD 6850 or better
15 GB HDD
Windows 7 64-bit