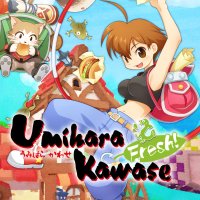 Umihara Kawase Fresh!
Umihara Kawase Fresh! is a classic platformer in which we play the role of a master of sushi preparation, passing surreal world populated by the inhabitants of seas, rivers and oceans. During the adventure, the heroine prepares dishes from the ingredients found along the way.
Arcade | platform | 2.5 D | side-scroll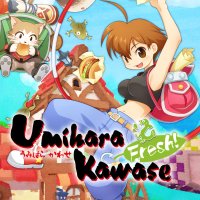 Umihara Kawase Fresh! is a classic platformer with elements of an adventure game. The developer of the title is the Japanese studio Saizensen, known for its productions such as Code of Princess and Blade Strangers. The production is part of the Umihara Kawase series, which was born in 1994 on the SNES console, and in the following years saw several hits on other popular hardware platforms, such as PlayStation, PlayStation Vita and Nintendo 3DS. The heroine of all of them is Kawase Umihara, a master of sushi making, who has moved to a surreal world populated by intelligent inhabitants of the seas, rivers and oceans.
Plot
During the campaign in the Umihara Kawase Fresh! the main character ends up in a small town called Kingness, which turns out to be a place taken out of her childhood dreams. So Kawase will try to stay there, hiring himself as a courier, and also occasionally working as a chef in a local restaurant. With the elapse of time he learns more about the history of the town and learns details about the mysterious castle that hovers above it, and also about underground depths, from which emerge monsters that terrorise inhabitants.
Mechanics
Umihara Kawase Fresh! is quite a classic two-dimensional platformer, which puts emphasis on exploring the vast levels and performing the tasks assigned to us by the residents of Kingness. Kawase can perform simple jumps and attacks, as well as using a rod that acts as a rope with a hook. It allows you to attach to different surfaces and then climb up the line or swing on it to get to normally inaccessible places. During the game we have a total of 50 opponents plus a few different bosses and 75 quests waiting for us. Along the way we find various ingredients of dishes that Kawase stores in his magical and bottomless backpack. Using them, the heroine can prepare dishes that serve as one-time power-ups.
Game modes
Apart from the standard campaign, the creators have also prepared Time Attack mode, in which we perform all previously unlocked quests on time. We can also try our hand at special missions - challenges.
Technical aspects
Umihara Kawase Fresh! offers a colourful 2.5D graphic design. Although the title does not stand out from the competition, both the world and the main character have their own charm. The game is accompanied by pleasant music and sound effects.
Age Rating
age requirements: everyone
System requirements
Minimum:
Intel Core 2 Duo 2.0 GHz
4 GB RAM
graphic card 1 GB GeForce GTX 460 or better
4 GB HDD
Windows 7/8.1/10